Kemo Malick* hung up the phone the moment he realized the threat was imminent. Seconds earlier, the caller had said a package from Europe was waiting to be collected. But the young Gambian was not expecting any packages. There was only one possible explanation: Someone was trying to establish whether he was at home. Malick had been exposed. His life as a refugee was about to begin.
As an intern at a local newspaper in Serekunda in 2009, Malick had become a target of persecution after passing on to the public information about Gambian President Yahya Jammeh, who has regularly been condemned internationally for restricting press freedom and abusing human rights. The phone call made it clear Malick needed to leave the country immediately if wanted to protect his family. His flight, which took him to Senegal and Libya and across the Mediterranean on a shipping boat, ended with his arrival in Bulgaria in the fall of 2013.
Having escaped from one crisis already, Malick was soon involved in another, but this time he found willing helpers: international volunteer communities that came together on Facebook to assist European countries in coping with the thousands of incoming migrants.
Regular people for refugees
From the moment the first Syrian refugees were welcomed in Bulgaria, it was apparent that the crisis-ridden government would be unable to ensure they would be cared for. Quickly volunteers came together in an informal Facebook group, called "Friends of the refugees," to provide the support asylum-seekers needed.
Journalist Maria Cheresheva was one of the initiators. Along with colleagues, she had taken to the streets of Sofia to collect donations for migrants. Hundreds of volunteers formed a chain to contribute food, water, clothing and other supplies, which were later transported to the refugee camp in Pastrogor.
"It was uncontrollable but at the same time truly wonderful. A stranger came to me and gave me 500 leva (250 euros) in an envelope," Cheresheva recalls. The sum amounts to more than a half of the average monthly salary in Bulgaria.
"I asked him, 'Why would you do that? We are not an NGO, just regular people.'" The stranger replied, "That's exactly why I'm giving it to you."
Cheresheva describes "Friends of the refugees," which has nearly 5,000 likes on Facebook, as "educated people with an in-depth understanding of the problem." English teacher Lydia Staikova fits that profile. The 44-year-old from the southeastern town of Haskovo regularly visits the nearby refugee camp in Harmanli, close to the Turkish border, where she offers English and Bulgarian lessons.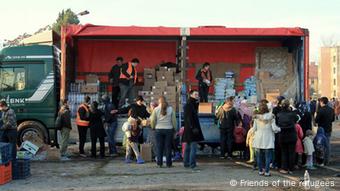 Friends of the refugees has brought together 'regular people' to help
"From the very beginning, the authorities and media created an atmosphere that causes an abusive attitude and prejudice towards the refugees," Staikova observed.
"Friends of the refugees" has tried to overcome those behaviors. Shortly after Malick arrived in Bulgaria, Cheresheva gave him an old laptop to improve his computer programming skills. Then, a single Facebook post by Staikova describing his abilities resulted in Malick getting a job as a web developer in Sofia.
Connecting eastern Europe
United by the same mission, similar groups have sprung up around the Balkans and led to the creation of an international volunteer network for migrants.
"We have good cross-border cooperation," says 30-year-old Janko Lega, an administrator of "Help the refugees in Macedonia," which communicates regularly with Greek, Serbian and Hungarian partners.
The informal group is the largest of its kind in Macedonia and has had a substantial impact on immigration politics. Shortly after its establishment, the government passed a law granting migrants who entered the country without permission a 72-hour pass to access the asylum system or safely leave Macedonia.
"If it wasn't for our group, this issue was never going to be in the public sight," Lega said, adding that volunteer communities wouldn't have been so successful if the authorities were "doing a better job helping the refugees."
'Inconvenient witnesses'
The groups' work has not been easy. More than once, "Friends of the refugees" has had to overcome barriers put in place by Bulgarian government officials. In the beginning, volunteers weren't allowed inside refugee camps and could only distribute donations on the street. Groups in both Macedonia and Hungary have reported similar difficulties with state officials and police.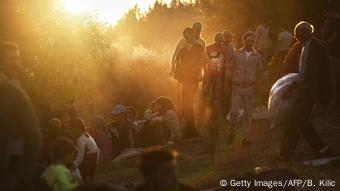 Bulgaria is the first stop for many refugees entering the EU
"We are inconvenient witnesses," Staikova said. When visiting refugee camps, volunteers like her may come across irregularities that could provoke criticism of the government if disclosed to the public.
"I remain silent on many, many issues," she said. "If I open my mouth, it won't get better. They will just suspend my access to the camp [in Kharmanli]. My access has already been frozen once, for a month and a half last year."

Meanwhile, with the authorities primarily concerned about the plight of Syrian refugees, Malick may have to wait a very long time to find out his fate. The Bulgarian authorities have already denied him refugee status three times and he has won four appeals.
"I am still an asylum-seeker," he says with a smile that acknowledges the irony of living in Bulgaria for more than two years without official residency. But because of "Friends of the refugees," the thought of leaving the country hardly crosses his mind, he says.
"I want to stay here. I feel okay here. This is what I was looking for - a nice environment and nice people."
*Name changed