The IMF chief made her comments at a Beijing forum on China's Belt and Road initiative — a $1 trillion (€808 billion) road, rail, and ports construction project spanning dozens of countries.
"The first challenge is ensuring that Belt and Road only travels where it is needed," Lagarde told an audience of officials on Thursday, many of whom preside over projects planned along the route.
"With any large-scale spending there is sometimes the temptation to take advantage of the project selection and bidding process. Experiences from across the globe show that there is always a risk of potentially failed projects and misuse of funds," she added.
President Xi Jinping's Belt and Road Initiative, unveiled in 2013, aims to build a modern-day Silk Road connecting China by land and sea to Southeast Asia, Central Asia, the Middle East, Europe and Africa.
Read more: China's 'New Silk Road' - perception and reality
Xi has touted the plan as a way to foster development and economic integration. But critics have questioned the project's financial viability, and expressed concern about Beijing's push to spread its influence west.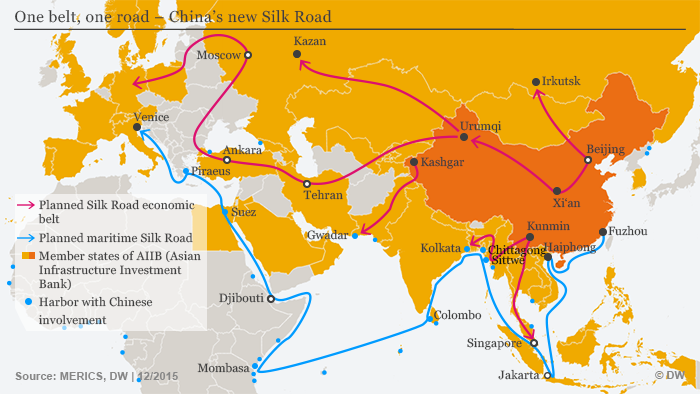 Exposure to debt
China has pledged $126 billion for the ambitious plan. But many of the colossal projects are being built by state-owned Chinese companies and financed by loans from China, leaving states billions of dollars in debt to Beijing.
Read more: China's new Silk Road summit opens with major funding vision
Lagarde warned that the venture could lead to "a problematic increase in debt" in some of the participating countries, potentially limiting other spending as debt service charges rise. "In countries where public debt is already high, careful management of financing terms is critical," she urged.
Some countries like Sri Lanka have already ended up deeply in debt, and been left with little choice but to turn over crucial assets to Beijing as way to restructure the loans. In Sri Lanka's case, the island nation handed over a long-term lease on the strategically located and bustling Hambantota Port to pay down debt.
According to a study by the Center for Global Development released last month in Washington, eight countries are likely to be exposed to unsustainable risks in the project, including Pakistan and Mongolia, among others.
US concern
US Treasury Secretary Steven Mnuchin has expressed Washington's concern recently about Chinese Belt and Road development lending. "We're concerned in certain areas where countries can't necessarily afford the loans," he said.
Lagarde urged Chinese leaders to take steps to improve transparency of its decision making on the Belt and Road Initiative and its components, such as by creating a "one-stop shop" that provides information to stakeholders.
Read more: China's Silk Road: a lucrative opportunity for Germany?
Although noting that the initiative can provide much needed infrastructure financing to partner countries, it should not be considered "a free lunch" by those nations.
On Wednesday, Chinese president Xi Jinping dismissed criticism of the project. "[The Belt and Road initiative] is neither the Marshall Plan after World War II nor an intrigue of China. It is, if anything, a plan in the sunshine," he told the Boao Forum for Asia, a Davos-like meeting of international leaders.
uhe/nz (Reuters, AFP)