Ukrainian President Petro Poroshenko expressed approval on Thursday over the IMF's decision to continue a long-stalled aid program meant to help the Eastern European country's economic recovery.
The IMF will disburse an additional $1 billion (889.3 million euros) to Kyiv, the fund's first aid package for the country since the $17.5 billion program was held up in August 2015. The latest decision brings the total amount of aid disbursed to Ukraine by the IMF to $7.62 billion.
"The positive decision by the IMF is evidence that the world recognizes that reforms are happening in Ukraine, that real and positive changes are happening in Ukraine, and that the country is moving in the right direction," Poroshenko said in a statement.
In February, IMF Managing Director Christine Lagarde had called on Kyiv to launch anti-corruption and economic reforms before the organization would resume giving aid. The fund's recent decision to continue the program was made in spite of failure by Kyiv to meet some of those goals, the Executive Board said.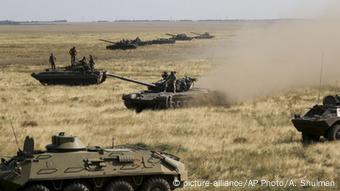 Ukrainian tanks near the Crimean border
New ceasefire announced
The decision came the same day Poroshenko said that government troops would adhere to a fresh truce with pro-Russian rebels fighting in the eastern part of the country.
The ceasefire, which will come into effect on Thursday and last for a full week, follows another peace deal reached in 2015 that has been repeatedly violated.
"We are happy and pleased that President Poroshenko has agreed to maintain a cessation of hostilities," said German Foreign Minister Frank-Walter Steinmeier following the announcement.
Tensions ramped up in Ukraine after an uprising in 2014 that led to the ouster of Moscow-backed President Viktor Yanukovych. Following the Russian annexation of Crimea in 2015, all-out war broke out between soldiers loyal to the Kyiv government and pro-Russia rebels. The conflict has battered the country's economy, with GDP contracting 9.9 percent in 2015.
blc/kl (AFP, Reuters)