"It's okay to change your mind," Ikea writes in the "return policy" section of its website.
For the past two years, that has certainly been true for Germany. In 2014, the retailer that designs ready-to-assemble furniture made headlines with the introduction of a lifelong return policy. Worldwide, only Denmark and Norway were granted the same generous terms.
The policy allowed customers to return purchases made in German Ikea stores after August 25 of that year - used and assembled, no packaging required, no questions asked, but with the original receipt. Before that, the Swedish retail giant with 301 stores in 37 countries - 50 stores in Germany alone - had a 90-day return policy.
The lifelong return policy was designed to give customers purchasing security, Isolde Debus-Spangenberg of the company's corporate communications office outside Frankfurt told DW. "That's what we continue to offer, the only change is a more limited timeframe."
Beginning September 1 of this year, customers will have 365 days to return an item without any explanation and get their money back.
'No demand' for lifelong return option
That puts German Ikea stores in line with the company's intended global return polices, Debus-Spangenberg said.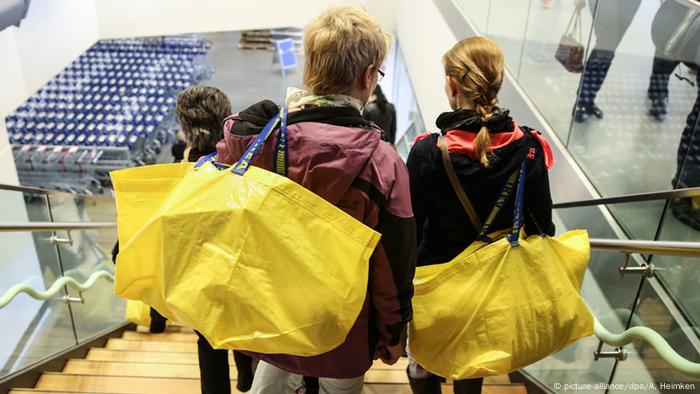 Signature shopping bags with plenty of room for accessories and knickknacks
According to Ikea, the new return limit is already much longer than what competitors in the sector offer, and gives customers a lot of time to try out the firm's products.
But why change the return policy again?
Ikea Germany said in a press statement that it realized customers don't need a lengthy limit. More than 90 percent of customers give purchases back two to three months after buying the items, the company says. Reportedly, sofas and kitchens are rarely returned - instead, smaller off-the-shelf impulse purchases end up going back to the store.
Goods still in their original packaging go right back on the shelf, other items are either sold at a discount, donated to social projects or are recycled - like used mattresses.