Syria remains the world's "most lethal" region, with 50,000 deaths in 2016. That's according to the latest "Armed Conflicts" report released Tuesday by the International Institute for Strategic Studies (IISS).
But this toll was closely followed collectively by Mexico, with 25,000 deaths and 16,000 across El Salvador, Honduras and Guatemala.
The international community and media had paid "less attention" to Central America where gang warfare displaced populations, wrote IISS authors.
Read: Mixed picture for Africa in 2017 Armed Conflict Survey
Overall, deaths from 37 armed conflicts worldwide amounted to 157,000 in 2016, down from 180,000 in 2014.
Mexico highlighted
"The largest rises in fatalities were registered in states that were key battlegrounds for control between competing, increasingly fragmented cartels," said the report of Mexico, wher homicides rose in 22 of its 32 federal states.
The 16,000 deaths recorded in Honduras, El Salvador and Guatemala had occurred often amid "governance vacuums."
Cartels had clashed with one another over drug-trafficking and other criminal assets and battles with state security forces had become increasingly "fierce."
Referring to El Salvador, the IISS said gangs such as Mara Salvatrucha and Barrio 18 had collectively between 54,000 and 85,000 members spread across urban areas.
Regional governments had created hybrid forces comprising police and soldiers. Gangs had killed 46 police and 27 military personnel, most of them off duty.
Long-worn conflicts
Grouped third were the wars in Iraq and Afghanistan which claimed 17,000 and 16,000 lives respectively.
Although the "Islamic State" had lost territory, for example in Mosul, since declaring its "caliphate" across swathes of Syria and Iraq, rival groups had not made gains, because they had "failed to form a unified front," concluded IISS analysts.
"A religious person would likely conclude that ["Islamic State"] is not after all the state that God promised," they postulated.
Urban areas
IISS director John Chipman said nearly one in two conflicts mentioned in the study were located in urban areas, in contrast to past decades when insurgents operated from rural areas.
One of the report's authors, William Reno, said an increasing portion of wars involved state failure and "fragmented social environments."
Over the past 50 years, "global political changes have altered who supports armed groups from outside conflict zones, and for what purpose," he wrote.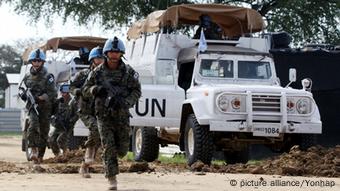 South Korean UN troops in South Sudan
UN peacekeeping essential
Analyzing UN peacekeeping, another IISS author Mats Berdal said "blue helmets cannot impose political solutions to complex and deep-seated conflicts, but they can and should underpin and support progress towards solutions."
Antonio Guterres had recently begun his tenure as UN general secretary with peacekeeping facing "an unprecedented combination" of systemic challenges amid sharp strains between permanent Security Council member nations, the IISS author wrote.
Nevertheless, peacekeeping appeared firmly set to remain a core activity of the UN, with 117,000 troops drawn from 125 nations assigned to 16 missions.