The aid workers from the Red Cross and Syrian Arab Red Crescent had set up in the village of Abel, some 3 kilometers (2 miles) from Homs, the International Committee of the Red Cross (ICRC) said, describing it as a "positive step."
"They were able to provide food, blankets and hygiene kits in addition to some basic medicines," ICRC spokesman Hicham Hassan said. "They are going back to Abel [on Monday] to continue."
Some of those receiving assistance had fled Baba Amr after a sustained attack on the suburb by security forces. Syrian authorities were said to be blocking ICRC access to Baba Amr amid fears of bloody reprisals by government troops there.
Britain and Turkey joined the international outcry, accusing the regime of committing a crime by barring Red Cross convoys from entering Homs.
British Foreign Secretary William Hague said the refusal showed how criminal the regime had become.
Hague's Turkish counterpart, Ahmet Davutoglu, said the Syrian regime's "savagery must stop," calling for an international response. "The fact that aid is prevented and access is refused to United Nations officials constitutes another crime," Davutoglu said.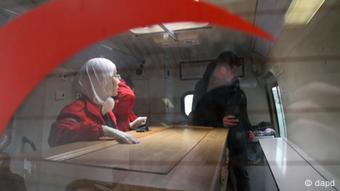 ICRC teams are still being denied access to Baba Amr
At least 37 people, including 14 government soldiers, have been killed over the weekend, according to the Syrian Observatory for Human Rights. The troops died in clashes with deserters near the southern town of Daraa, the group said.
International pressure
The near-year-long Syrian uprising has continued to draw attention from governments around the world, with regional power Saudi Arabia on Sunday urging Russia to pressure the government of President Bashar al-Assad to stop its deadly crackdown on dissent.
Saudi Foreign Minister Saud al-Faisal accused Damascus of "imposing itself by force" and said Syrians had a right to defend themselves.
Meanwhile, China, which twice joined Russia in blocking UN Security Council resolutions against the government crackdown, called on all parties in the conflict to end their standoff.
The Xinhua news agency on Sunday cited a Foreign Ministry statement attributed to an unnamed official calling for dialogue under the mediation of the United Nations and Arab League between the Assad regime and those expressing "political aspirations."
The statement, however, went on to say that China "opposed anyone interfering in Syria's internal affairs under the pretext of 'humanitarian' issues."
dfm, gb/acb (dapd, AFP)