Brazilian President Jair Bolsonaro landed in Israel on Sunday, receiving red carpet treatment from Prime Minister Benjamin Netanyahu, who is running for re-election in nine days.
The two right-wing leaders signed several agreements pledging defense, cyber security and police cooperation during Bolsonaro's first state visit to Israel.
Read more: Are Benjamin Netanyahu's days numbered as Israeli PM?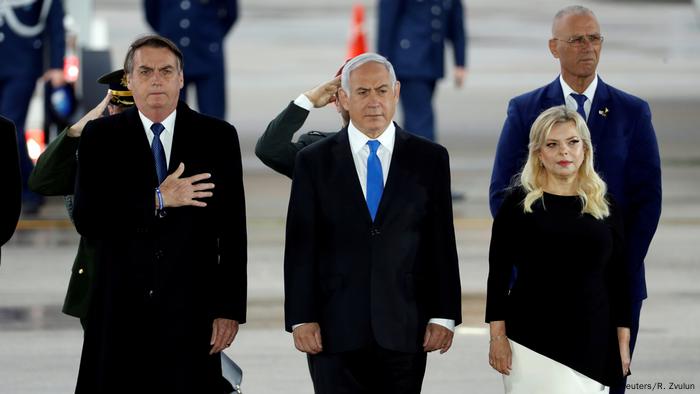 The Brazilian leader opened his speech after landing with the words 'I love Israel' in Hebrew
Inking deals
Netanyahu said he and Bolsonaro would sign "many agreements," including security deals.
Brazilian state-run oil firm Petrobras will take part in an Israeli oil and gas exploration tender, Israel's energy minister announced.
A pending decision to shift Brazil's embassy to Jerusalem may also be broached during Bolsonaro's first state visit. The move has been opposed by military officers in his cabinet.
Read more: Who is Jair Bolsonaro?
Stiff election challenge
"I love Israel," Bolsonaro said in Hebrew at a welcoming ceremony, with Netanyahu at his side, at Tel Aviv's Ben-Gurion airport.
Netanyahu's two chief opponents have joined forces ahead of the country's April 9 election in a bid to overcome the prime minister's right-wing Likud party and its allies.
Centrist Benny Gantz, a former military chief, and Yair Lapid, are running on a joint ticket. Netanyahu is also under threat of indictment on corruption allegations.
Diplomatic tightrope
Although Bolsonaro seeks to shore up ties with Israel, he cannot afford to anger key Arab trade partners.
Months after promising to move the Brazilian embassy to Jerusalem, Bolsonaro has yet to announce a timetable.
Speaking to reporters on Thursday, Bolsonaro suggested he was not in a hurry to make a decision.
"Trump took nine months to decide, to give his final word, so that the embassy was transferred," Bolsonaro said. "Perhaps now we will open a commercial office in Jerusalem."
Read more: Israeli attorney general to charge Benjamin Netanyahu for corruption
kw/rc (AP, Reuters)
Every evening at 1830 UTC, DW's editors send out a selection of the day's hard news and quality feature journalism. You can sign up to receive it directly here.