Hungary's parliament on Monday granted sweeping new powers to the army and police in an effort to keep migrants and refugees out of the country.
The new legislation was passed with overwhelming support and allows the army to take part in border controls, restrict civil liberties and use "coercive weapons designed to cause bodily harm, although in a non-lethal way, unless it cannot be avoided."
Non-lethal firearms, rubber bullets, pyrotechnics, tear gas, and net guns are permitted under the legislation. Police will also be able to enter private homes to search for suspected illegal migrants under the new laws.
The measures come into effect a week after illegal border crossing was made a crime punishable by up to five years in jail, and as populist Prime Minister Viktor Orban warned that Europe was being "overrun" in the worst refugee crisis since World War II.
"They are overrunning us. They're not just banging on the door, they're breaking the door down on top of us," Orban told lawmakers in Budapest. "Our borders are in danger, our way of life built on respect for the law, Hungary and the whole of Europe is in danger."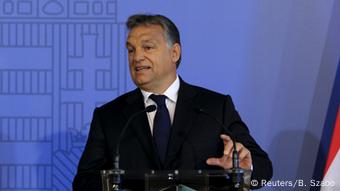 Orban is sticking to his hard line against migrants
The rules will apply in areas where a "state of crisis caused by mass immigration has been declared." Hungary has declared such a state in six districts bordering Serbia, Croatia, Slovenia and Austria.
Refugee rights groups expressed concern over the new measures.
"The extended powers of the army and police must be used with utmost care in situations involving refugees who themselves have fled from war and terror and have already suffered gravely from police and armies in their home countries," said Marta Pardavi, chief of the Hungarian Helsinki Committee.
'Absolutely dedicated' to reaching an agreement
Meanwhile, the foreign ministers of the Czech Republic, Hungary, Poland, Slovakia and Latvia met in Prague on Monday with Jean Asselborn, their counterpart from Luxembourg, which holds the EU presidency.
After the talks, Czech Foreign Minister Lubomir Zaoralek said the nations were "absolutely dedicated" to reaching an agreement with fellow EU nations. Hungary, Poland, Slovakia, the Czech Republic and Latvia all have rejected proposals for binding migrant quotas favored by Germany.
"We're aware that Europe needs joint collective action to accelerate the solution to the still very painful situation," said Zaoralek.
Polish Foreign Minister Grzegorz Schetyna said his country could take in more refugees than its proposed share under the EU quota plan, but stressed it should be on a voluntary basis and under specific conditions.
EU interior ministers are set to meet in Brussels on Tuesday ahead of a bloc-wide emergency summit on Wednesday.
bw/cmk (AFP, Reuters)