Hundreds of demonstrators in Russia on Saturday defied a government ban in order to protest President Vladimir Putin, with dozens of activists arrested in St. Petersburg alone.
The demonstrations were organized by the pro-democracy Open Russia movement, founded by opposition leader Mikhail Khodorkovsky, and were held under the slogan "We're sick of him," referring to Putin, who's considering running for re-election in 2018.
Demonstrations in Moscow and St. Petersburg drew around a couple hundred protesters, according to media reports. French news agency AFP reported that between 30 and 50 people were arrested by police in the latter city, Putin's hometown.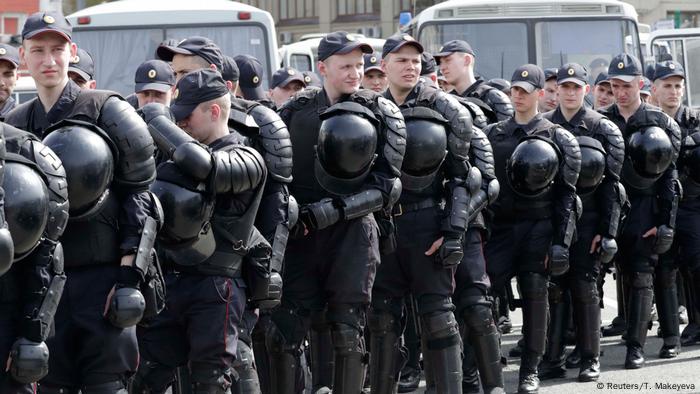 Hundreds of riot police were deployed to the scene prior to the protests
Opposition galvanized
Open Russia is hoping to build upon a wave of anti-Kremlin sentiment that led to mass protests organized by another popular opposition leader, Alexei Navalny, last month. Hundreds of riot police had been deployed to central Moscow earlier on Saturday in preparation for the demonstration.
Putin has not said whether he will run in March, but he is widely expected to do so. Navalny, meanwhile, has said he plans to stand for president in 2018, in what has had a galvanizing effect on the scattered opposition. He called for more protests in June.
Russian authorities, which had called Saturday's protests illegal, have put pressure on Open Russia's office in the UK, where Khodorkovsky is based, accusing it of trying to cause trouble in Russia. On Thursday, police searched the foundation's Moscow office and confiscated tens of thousands of blank appeal forms that were to be passed out to demonstrators.
blc/sms (AFP, dpa, Reuters)