"Hitler is dead, but we're still alive!" exclaimed the character played by Moritz Bleibtreu ("Run Lola Run") in "Bye Bye Germany" (pictured above). The film, which premiered at the Berlinale film festival, explores the aftermath of extreme populism and xenophobia in new, and often comedic, ways.
It was one of several German films appearing in the Berlinale Special section that is dedicated to works that "deserve special attention due to current events." Dieter Kosslick, the festival director, recently stated that "a specter is haunting us - not only in Europe," and that it's time to celebrate filmmakers "who have courage, look ahead and want to change something."
Directed by Sam Garbarski, who was raised in a Jewish family in Germany before moving to Belgium, "Bye Bye Germany" reflects on Jewish Holocaust survivors in 1946 Frankfurt, both in terms of the ingenious ways they try to earn money to leave for America and their struggles to reconcile their persecution at the hands of the Nazis.
Kicking off soon after US President Donald Trump issued his since suspended Muslim ban - which some have even likened to Hitler's early racial laws -, this year's Berlinale has unavoidably debated the pressing issue of far-right populism and its potentially tragic consequences.
Numerous films have explored the ongoing refugee crisis, Brexit, and various far-right governments in Europe, including Finnish filmmaker Aki Kaurismäki's "The Other Side of Hope," which shows a Syrian refugee's nightmare attempt to cross European borders that anti-immigrant governments have fortified with barbed wire.
Meanwhile, a number of German films in particular, like "Bye Bye Germany," have reflected on the history of right- (and left-) wing authoritarianism at home. In the process, they have - if inadvertently - created cautionary tales regarding the politics of division and fear.
Victims of fascism
Other German entries that look at authoritarianism in nuanced ways include "In Times of Fading Light," a family saga spanning the rise and fall of the Berlin Wall. It takes place in 1989 on the 90th birthday of Wilhelm (Bruno Ganz, "Downfall"), a former anti-Nazi resistance fighter and fervent Stalinist who soon realizes that his failed East German utopia is about to dissolve.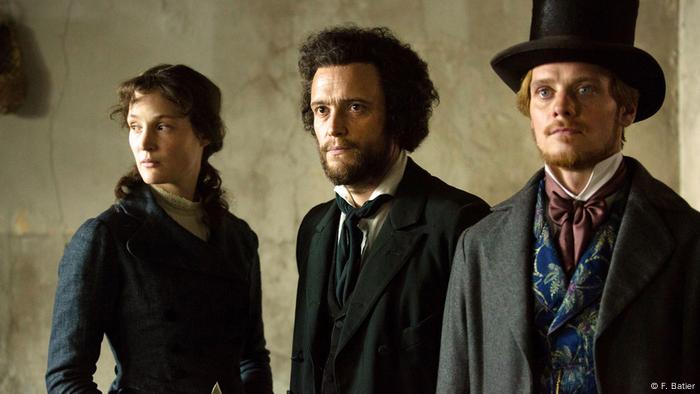 "The Young Karl Marx" marks the 100th anniversary of the October Revolution
Meanwhile, "The Young Karl Marx" is a German-French production selected for the Berlinale Special that evokes an emerging intellectual obsession with human equality and the need to awaken the revolutionary potential of the oppressed.
A number of German queer films at the Berlinale also detail the history of sexual repression at a time when US Vice President Mike Pence is an avowed opponent of what he calls the "homosexual agenda" - meaning LGTBQ rights. They include the documentary "My Wonderful West Berlin," which follows the emergence of the gay and lesbian emancipation movement in postwar West Berlin, especially the fight to overturn Paragraph 175, the infamous law that outlawed homosexuality and was used to justify far-reaching homosexual persecution by the Nazis.
The film will vie for the Teddy queer film award, which is focused this year on bringing attention to Paragraph 175. Gay cinema pioneer Wieland Speck, who has directed the Berlinale's Panorama section since 1992 and initiated the Teddy award, said the idea is to lobby for compensation for gay men who suffered and "who went to prison or worse during the Nazi era."
Moreover, for Speck, the Berlinale's queer film program is a warning of what might come. "The new-old right wing which has kept quite hidden in postwar Germany (...) is losing all shame and coming forward with slogans and behavior that was setting the world on fire only 75 years ago," he commented.
Fences in Hungary, repression in Poland
Jewish life in postwar Europe, as portrayed in "Bye Bye Germany," is also explored by Hungarian director Ferenc Török in "1945," which looks at the return of two Jewish men to a village community that had reaped "ill-gotten gains" from the former's deportation.
This look at anti-Semitism in Hungary anticipates the current rise of far-right parties like Jobbik, who, with the ruling conservatives, have implemented anti-immigrant policies including building a massive fence on its border with Serbia and Croatia to keep people out of the country. This drew the ire of director Aki Kaurismäki, who told the Berlin press this week that European governments have forgotten that 60 million people were displaced on the continent after World War II.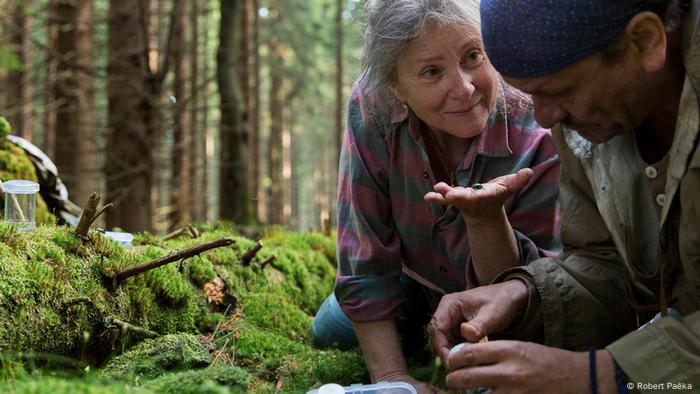 "Spoor" from Poland is a metaphor for the repression of minorities
Polish director Agnieszka Holland, famed for her 1990 Holocaust film, "Europa Europa," is in competition for a Golden Bear with "Spoor," a complex thriller exploring hunting and animal rights in Poland. The film also serves as a metaphor for the repression of minorities by the right-wing governments in her own country and beyond.
On this point, Holland this week described "the mentality of those who want to subjugate everything that is weaker than themselves, whether its women or nature or other men, gays, people with disabilities, anybody."
When "Spoor" was first conceived four years ago, it was about "opening up our imagination and sensitivity," she said. But in the meantime, as populism has risen up across Europe and the US, "this question has become political."
The Berlinale runs through February 19 and the Golden and Silver Bear awards will be handed out on Saturday evening.