Kano, Nigeria, November 14, 2014 - two Boko Haram militants drive their car into a petrol station, fill it with fuel, then ram it into a police truck detonating a bomb. The attack on northern Nigeria's largest city killed eight people. It would later be followed by a series of much deadlier suicide bombings.
Mohammed Ali lives near the station and was heading home when the bomb went off. "I'm afraid of Boko Haram now. Everyone here is afraid of Boko Haram. The situation is very, very bad," he said.
Such attacks have become a common occurrence in northeastern Nigeria. Apart from costing human lives, they are halting development in this part of the country. "It's affecting business now. If everything is shut down, people are not going to eat," said Ali.
The arid, expansive region does not have oil like the south where most of Nigeria's oil reserves are found. But what northern Nigeria has, is the sun, wind and open space - making it an ideal location for many forms of renewable energy.
Dormant wind turbines
Around 37 wind turbines are still lying flat on the ground in Kastina, a town located next to the border with Niger. They are waiting to be hoisted upright so they can begin generating electricity. The engineers on site say the wind turbines should be operational in the coming months.
This particular wind farm started in 2010 and is a joint venture between a French company, Vergnet, and the Nigerian government.
In 2012, 30 men allegedly belonging to Ansaru, a Boko Haram Islamist splinter group, stormed the house of 63-year-old, Francis Collomp – a French engineer involved in the project. Two people were killed while he was abducted.
Pius Onyenagubo who oversees the project said it was nearing completion when Collomp was kidnapped.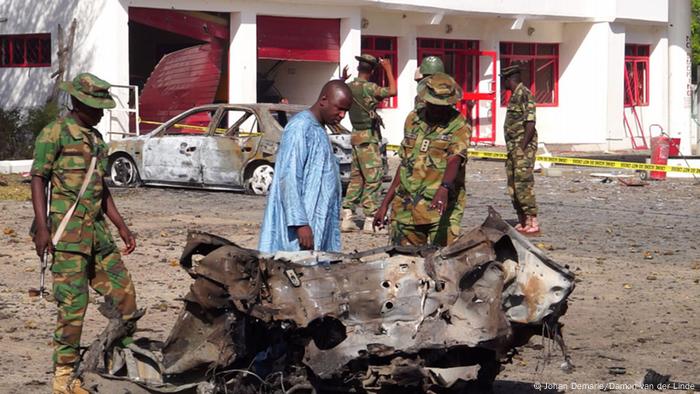 Boko Haram attacks have scared away many investors
Nearly a year later the French engineer managed to escape. But the project was put on hold. "The expatriates, who are the major actors, became scared because in anything you do, life comes first," said Onyenagubo.
Scared engineers
The solution was to train six Nigerian engineers to complete it. If and when it starts operating, it will be the first wind farm in all West Africa. "Wind is a natural resource that you can conveniently rely upon. It's much better than the diesel, the oil that with time will go," said Onyenagubo.
Olalekon Akinyemi is one of the six engineers who moved to Katsina from his home in the south after receiving training in France. "We are all nervous, not only because of the kidnapping of one of our expatriates, but because of the security challenges facing Nigeria today. Everybody is nervous because we don't know where the next target will hit," he said.
However, Akinyemi says it's worth the risk being part of a project that could have a big positive influence on both the local population, and the entire country. "It's the first of its kind. We are chosen to come and complete it. It's a privilege," he said.
"It makes me feel proud that we are the pioneer of such a project in Nigeria."
Katsina's neighboring Jigawa State in central northern Nigeria was one of the first in the country to adopt renewable energy. Thirteen years ago it began experimenting with giving villagers solar power. The project was supported by an American organization called the Solar Electric Light Fund.
Solar but no dollars
In the Ahoto village Bashir Maiunguwa says the solar installation worked for about six years. "The streets were safer with security lights. Shops could stay open at night and children could keep studying after dark," he said. Then about seven years ago all the batteries went dead. Nobody came to fix them.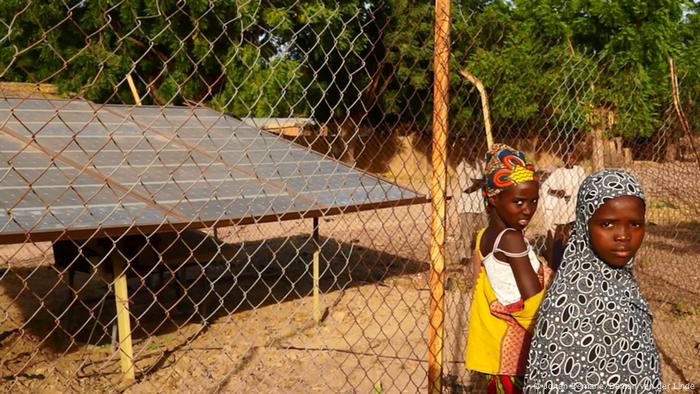 Northern Nigeria has abundant sunshine which can be turned to solar energy
Now, only the village's solar-powered water pump still works. Mohammed Sani Mohammed is the Executive secretary of the Jigawa Alternative Energy Fund. He says the fund gets only $20,000 (18,000 euros) annually to maintain all 29 solar villages in the state.
"If you run out of money to do that, you can't do it. And the government gives us money for new projects and we have to look for money for maintenance," Said Sani Mohammed.
He said the villagers also need to chip in. "The people are supposed to be paying monthly, but because of the nature of the people they do not pay regularly. It's very poor when we talk about payment, very poor. It's almost close to zero," said Sani Mohammed.
Pressing on
The Jigawa Alternative Energy Fund is still pressing ahead, installing solar projects in more communities. Some are state initiatives and some are collaborations with the federal government under their Millennium Development Goal initiative.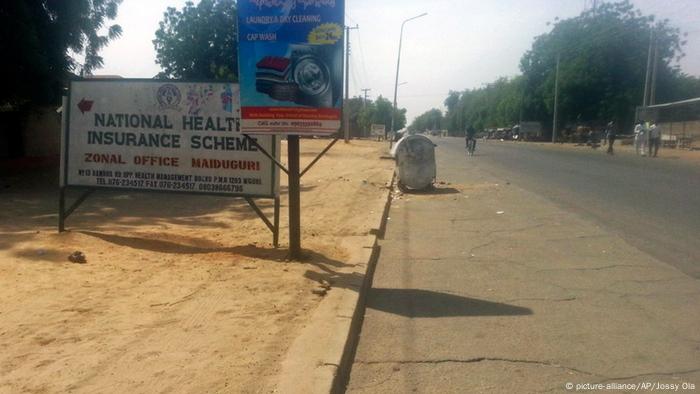 A curfew like the one seen here in Maiduguri has affected economic activity in northern Nigeria
The Tuza village is about 12 kilometers (7 miles) from the nearest road. It has no hope of being connected to the national grid for another decade.
Amina Mohammed had solar lighting installed for free at her house about one year ago through a rural electrification project. She says it allowed her to cook at night and let her children study. "I used the money I saved to buy my children school uniforms."
She says the only problem is that people living in neighboring villages are complaining it's unfair they don't get their own solar panels. The Jigawa Alternative Energy Fund says it's getting more applications for solar installations than it can handle.
Research on this article was made possible by a grant from the European Journalism Centre.