Tens of thousands of Hong Kong residents attended a candlelight vigil on Tuesday to mark the 30th anniversary of a government crackdown on pro-democracy protesters in Beijing's Tiananmen Square.
Demonstrators gathered in Victoria Park near the bustling Causeway Bay shopping district, holding up candles and placards. Others rallied next to a replica of the Goddess of Democracy statue, a plaster sculpture of a female figure holding a torch that was displayed in Tiananmen Square in the days leading up to the crackdown.
Read more: Opinion: Why we remember Tiananmen Square
"That statue was crushed by tanks at the June 4 crackdown, the June 4 massacre. So we are rebuilding this here ... to symbolize that we are still continuing to fight for democracy, and continue on the spirit of the '89 democratic protests," said Chow Hang Tung, the vice chair of the Hong Kong Alliance in Support of Patriotic Democratic Movements in China, which organizes the annual event.
Police estimated that 37,000 people took part in the peaceful ceremony, but organizers said the number was closer to 180,000.
On June 4, 1989, Chinese troops opened fire on a student-led pro-democracy protest taking place in Tiananmen Square. China has never provided a death toll for the violence, but rights groups and witnesses have estimated that hundreds and possibly thousands of people died in the massacre.
"It is very important that Hong Kong people continue to remember the June 4 tragedy, and indeed, preserve the memory. And don't let the Chinese authority try to erase the memory for the whole nation," said Richard Tsoi, another vice chair of the Hong Kong Alliance.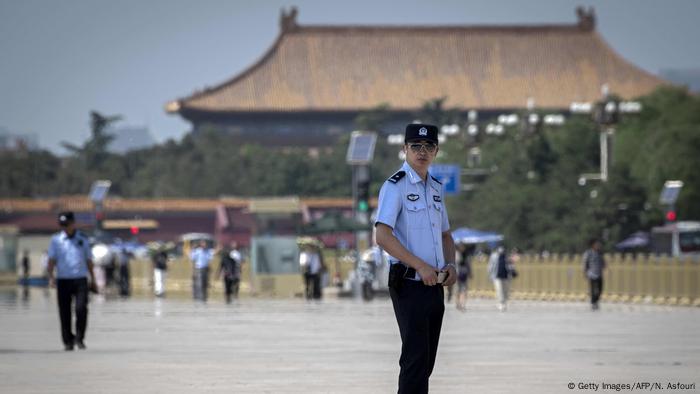 Police officers secure Tiananmen Square in Beijing.
Tight security
Authorities in mainland China installed tight security in and around Tiananmen Square on Tuesday. The tighter-than-usual security still didn't stop throngs of tourists from visiting the site earlier in the day.
In addition to the security blanket, censors at Chinese internet companies said tools to detect and block internet content related to the Tiananmen Square crackdown had reached unprecedented levels of accuracy.
Read more: China says Tiananmen crackdown was 'correct'
The anniversary is not formally marked by the government and is not spoken about openly in China.
Hong Kong is a former British colony that returned to Chinese rule in 1997. It is governed under a "one country, two systems formula" that guarantees Hong Kong residents rights and freedoms that are not present on the mainland.
dv/amp (AFP, AP, dpa)
Each evening at 1830 UTC, DW's editors send out a selection of the day's hard news and quality feature journalism. You can sign up to receive it directly here.