A 1939 Mercedes-Benz 770K Grosser Offener Tourenwagen once owned by Nazi-era German dictator Adolf Hitler is to be put up for auction next month.
Billed as the most historically significant automobile ever offered for public sale, the arrangers, Arizona-based Worldwide Auctioneers, have released 54 pages of documents which they say prove that the "Super Mercedes" was ordered by, built for and used by the Führer during World War Two.
The auction house didn't estimate the potential value of the car, but US broadcaster Fox News cited an anonymous classic car valuation expert as saying it could fetch between $5-7 million (€4.2-5.9 million).
Read more: 'Mein Kampf' is appropriate for Texas prisons, 'Monty Python' not so much
One of five surviving Offene Tourenwagen, the vehicle has since been displayed in several parades and museums around the world as well as some of the most significant private collections.
Infamous vehicle
Worldwide Auctioneers say the car is a "product of the exacting requirements of the Führer and SS officer Erich Kempka, who served as his primary chauffeur from 1934." It will go under the hammer on January 17.
The accompanying dossier contains letters describing how at the end of the war, the car was seized and used by the US military police in Le Havre, France.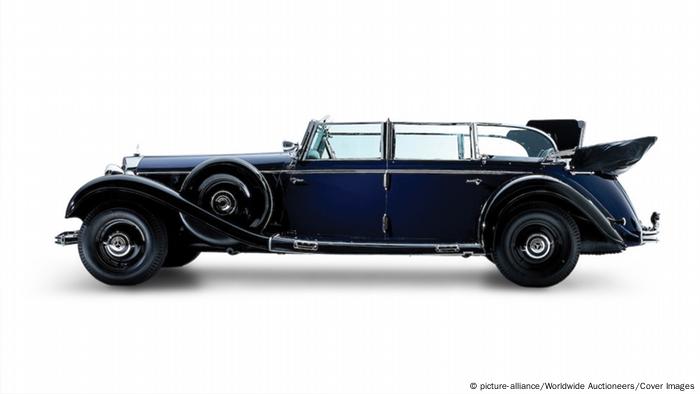 The Mercedes has had seven other owners since being used by Hitler for special occasions between 1939 and 1941
The Mercedes was later pulled out of a canal in the Belgian city of Antwerp. There it was eventually bought from a junkyard, repaired and shipped to the US, where it had five other owners, according to the dossier.
Defending the auction of an item belonging to one of the world's most notorious mass murderers, the auction house says it will donate 10 percent of the sale price to educate people about how and why the Holocaust happened and how to prevent similar atrocities.
"This motorcar did not choose its original owner nor its use," Rod Egan, auctioneer and principal for Worldwide Auctioneers said in a statement.
"If its original provenance can be set aside, surviving examples of the Mercedes-Benz 770 'Grosser' or 'Super-Mercedes' remain quite likely the world's greatest achievement in terms of automotive design, engineering and construction."
Other Hitler memorabilia auctioned recently include never-before-seen photos of the German dictator, his red phone and Hitler's own paintings.
Powerful and imposing
The Mercedes is partially armor-plated with a bullet-proof windscreen and is powered by a mighty 7.7-liter inline eight-cylinder engine.
Worldwide Auctioneers said Hitler's car was capable of exceeding 160 kilometers per hour (100 miles per hour) — a significant achievement at the time.
It was used by the Führer during parades and other high-profile appearances from 1939 to 1941, when it was sent for repairs. After that, its wartime service is unknown.
Read more: Should Germany keep its Nazi relics to teach young people about the Holocaust?
Years after the war, the vehicle was donated to a branch of the US Veterans of Foreign Wars, where it was used in American military parades. It was later left in a garage for several years before being rediscovered in 1976.
Following extensive restoration, it was displayed at the Chicago Historical Antique Automobile Museum and then sold to the owner of the Imperial Palace Casino and Hotel in Las Vegas. It later ended up in the hands of a European owner of several classic Mercedes cars.