This week Jews all over the world celebrate the holiday of Hanukkah, marking the success of the Maccabean revolt, in which a group of Judean rebels defeated the Seleucid Empire and its king.
Antiochus, who ruled the empire from 175 BC until his death in 164 BC, forbade Jews from practicing their religion, and they in return refused to worship the Greek gods, starting an uprising and eventually rededicating the Holy Temple in Jerusalem.
As the Jewish calendar is not synchronized with the Roman calendar, Hanukkah is celebrated on different days each year and usually includes December 25, or what Christians know as Christmas. However, 22 years ago, in a very rare coincidence, the Muslim month of Ramadan was also celebrated at the same time, an occasion that inspired one small Israeli cultural center to establish a special feast: the Holiday of Holidays.
Ever since, Haifa's Beit Hagefen has celebrated coexistence between Jews, Muslims and Christians.
The city, the third-largest in Israel, is home to a mixed religious population. Jews, Israeli Arabs, Palestinians and Christians live together peacefully - which is rather uncommon in Israel.
"The idea behind this joint holiday was primarily getting to know one another," Asaf Ron, executive director of Beit Hagefen, told DW. "We live together on this land - all three religions - but we don't really know each other's culture, holidays, traditions," he said. "So this was a great opportunity to open up, to listen."
The Holiday of Holidays is celebrated throughout three weekends during the month of December, and includes not only exhibitions, guided tours and workshops, but also dialogue circles and open houses in which Christian and Muslim Palestinians and Israeli Arabs open their homes to the public in an attempt to break the stereotypes and the distance between them and the Jewish population.
"I like this holiday very much," said Arwa, a 27-year-old resident of Wadi Nisnas, the Arab neigborhood in which many of the exhibitions and open houses take place. "The city becomes alive, and it somehow gives hope to see that people can live in coexistence not only in Europe, but also here," he said.
In years past, a celebration of the city's diversity might not have been as well-received. Any political tension between Israel and the Palestinian Authority can easily sow fear and immediately affect the entire area, even in a relatively peaceful city like Haifa.
"During the second Intifada in 2000, it was of course more difficult," Ron said. "But this year is challenging, too. Many people ask me if I'm afraid the festival won't have visitors."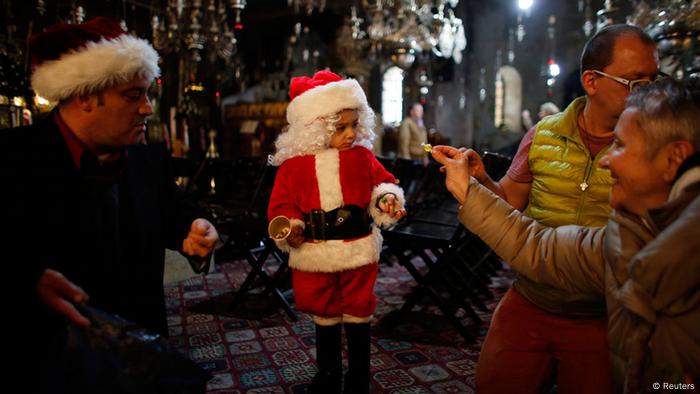 A tourist offers a sweet to a boy dressed up as Santa Claus, in the West Bank town of Bethlehem
"But I'm optimistic," Ron said. "A small antique fair we opened last Saturday was attended by about 3,000-4,000 people. This Saturday, the first Shabbat of the festival, is expected to see 40,000 visitors. I believe Haifa conveys a certain vibe that makes people feel more comfortable."
'More than just hummus'
Wadi Nisnas is a neighborhood rich with history. Many of Haifa's Arab districts lost their original character after being conquered in 1948, but Wadi Nisnas has kept its identity and remains home to an Arab majority.
Nearby neighborhoods such as Wadi Salib and Halisa saw numerous riots before and after Israel was established, becoming the center of protests against the British mandate and gradually becoming home to Jewish immigrants from Europe and later from Morocco.
Ron believes that especially tense times show the importance of the event. "We want to show that we could serve as an example for the rest of the country," he said. "During these times it's even more essential to create discourse and mutual understanding - and it works."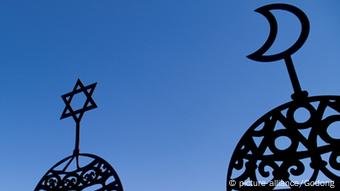 "We want to show that we could serve as an example for the rest of the country"
For Beit Hagefen, as well as for the Arab residents of Wadi Nisnas, it is important not to turn the open houses into exhibits, presenting residents as curiosities and making them feel uncomfortable.
"Why should we speak in their name?" Ron said. "The open houses tradition allows the residents to speak for themselves. They don't need us to explain them to the public, and it goes beyond the superficial coexistence of pita-hummus Israelis sometimes like to be proud of."
For Arwa, who works at a restaurant in his neighborhood, the festival is more than just a tourist attraction. "There are more clients, of course, but every visitor also takes something else back home, and that is the notion that the one who's different from you doesn't have to be a stranger. Even if one person takes that message with him, then the feast achieved its goal for me."