Racing champion Lewis Hamilton smashed a track record Saturday in Suzuka, Japan, en route to seizing pole position at the Japanese Formula One Grand Prix.
The Mercedes driver blazed through the 3.6 mile (5.8 km) track in one minute and 27.319 seconds, smashing the previous record, set by German seven-time world champion Michael Schumacher, by 1.6 seconds.
"Incredible!" said the Briton in post-qualifying interviews conducted by his former McLaren teammate Jenson Button in front of the crowd. "It's been a really good day, and every lap was fantastic.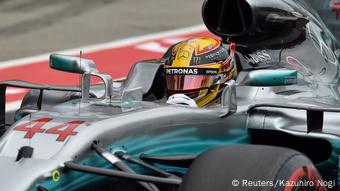 Hamilton behind the wheel in Suzuka
"It's my first time. I'm running out of opportunities to get this pole, so I was like 'I've got to make sure I make it stick today'," added Hamilton, who was on pole in Japan at Fuji in 2007 for McLaren.
Lining up alongside him Sunday will be long-time rival Sebastian Vettel.
Read more: Hamilton celebrates Grand Prix win in Britain
An eight-meter lead
Hamilton leads the German by 34 points with just five races to go. He dismissed questions about how aggressive Vettel might be going into the first corner.
"I don't know," said the three-time champion. "He won't be any more aggressive than I am."
"I've got eight meters," he continued. "I need to make sure I keep the eight meters that I have and get a good start. Starts have generally been strong this year."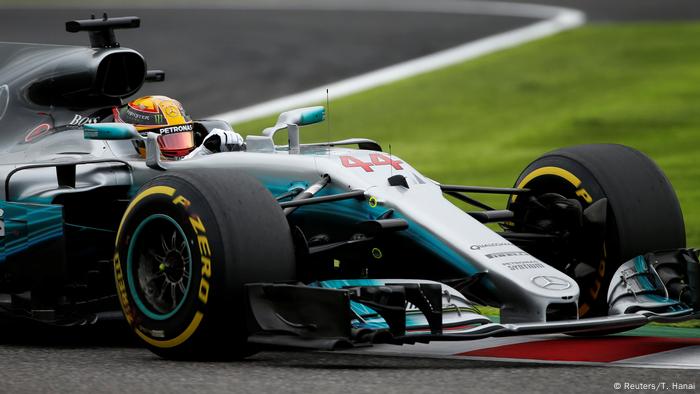 Hamilton races toward record time during qualifier in Japan
Hamilton has won the race on the Suzuka track twice — in 2014 and 2015. Vettel has four titles there from his Red Bull days — in 2009, 2010, 2012 and 2013.
Vettel, a four-time world champion, needs a big performance this weekend to close the gap after suffering successive setbacks to his bid for a fifth title.
"I'm reasonably happy," said the Ferrari driver.
"I tried everything on the last run, I knew I had to take a bit more risk," he continued. "I would have loved to have been a bit quicker, but it's quite amazing with the new cars around here. I love the track."
Read more: Vettel loses ground to Hamilton in Malaysia
bik/tj (Reuters, dpa, AP)