Hamburg's special police commission for bike theft scored a big win on Tuesday after carrying out raids on four warehouses containing scores of supposedly stolen bicycles.
With the help of 180 officers, a total of 1,500 possibly pinched bikes were secured, ranging in styles from mountain bikes, to women's road bikes and children's bikes.
"We are assuming they are suspected stolen bicycles," Hamburg police spokesperson Timo Zill said. Earlier, authorities said that 3,500 bikes were recovered, but the number was later corrected by police.
A total of 15 trucks and a fork lifter were needed to transport the piles of stacked goods out of the warehouses, located in the area of Rothenburgsort.
By securing the bikes, "the police have succeeded in biggest blow against organized bicycle crime in our history," Zill said.
Investigating suspects
Alongside the warehouse raids, authorities also searched two apartments - one in Hamburg and one in the western city of Essen. Police are investigating three men aged between 42 and 44-years-old. The Hamburg police did not say whether the suspects were detained.
Police also said they believe that only a few perpetrators are responsible for a majority of bike thefts.
Investigators on the special police commission for bike theft are also trying to penetrate the structures of the organized crime rings.
The warehouses, located in an industrial area, were most likely used by the thieves as a collection point for bikes snatched from Hamburg and northern Germany. The stolen goods were then taken to Eastern Europe via vans, police said.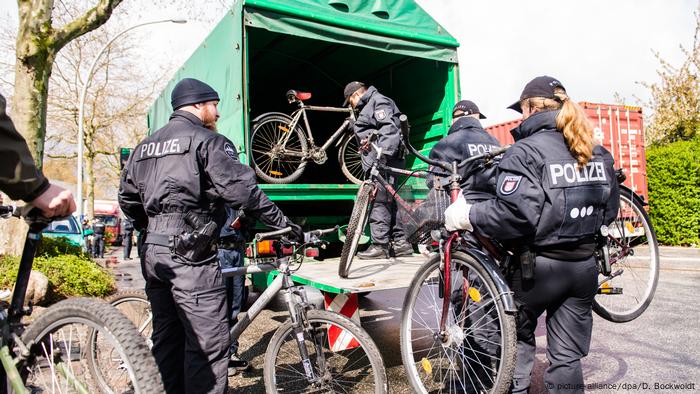 A total of 15 trucks were standing by to help transport the suspected stolen goods
Much work lies ahead
Police will now begin the hard work of cataloguing, identifying and hopefully returning the stolen bikes to their owners.
The work is expected to take a long time, Zill said. Transporting the bikes alone will take up to two days while the cataloguing work will most likely last several weeks. He added that police will work to return the bikes to their rightful owners as quickly as possible.
In one tweet, police said they already identified one sea foam green bike as reported stolen.
According to the German Cycling Club (ADFC), Germany's city-states like Berlin and Hamburg have much higher rates of bicycle theft than the rest of the German states.
In 2015, 4.35 million bicycles and E-Bikes were purchased in Germany but 340,000 bikes were reported stolen in that same year. According to ADFC calculations, that means a bike is stolen in Germany every 90 seconds.