Sometime between 8 a.m. and 3 p.m. on Saturday an unknown criminal brazenly snatched a Humboldt penguin known as Number 53 from its enclosure. The peak-hour theft wasn't noticed until a routine afternoon headcount, by which stage the South American penguin was long gone.
By Thursday afternoon the flightless bird was found dead, discarded in a car park.
"The case of our missing penguin could not have taken a worse turn," said Park Director Joachim Költzsch.
"All of us, especially the keepers who have taken care of the animal every day, are shaken. Shattered over its death, but also shaken that someone could have so little respect a living creature."
Zoo officials ruled out an attack by foxes or other predators and said there was no way the juvenile penguin escaped of its own accord. So suspicions fell onto criminal activity.
As police were investigating the theft, the park issued desperate pleas for the return of the threatened bird, which cost zoos up to 3000 euros (3200 USD) to purchase. The bird was tagged and therefore difficult to sell.
"Because number 53 ... is no longer in its normal environment, without its special diet and perhaps not enough liquid, it is in danger and will not survive for long," the park posted on Facebook after its disappearance.
Zoologist Christine Krämer also wondered how easy it would be to actually snatch a penguin, suggesting the work of professional thieves. "The animals are very defensive, they have a very sharp-edged, pointed beak," Krämer told local newspaper, "Rhein-Neckar-Zeitung."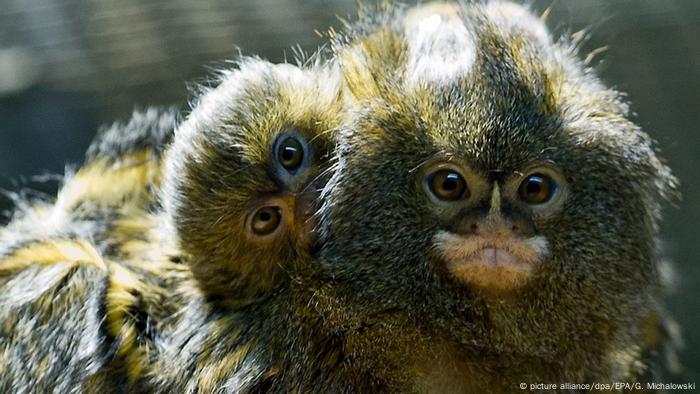 The director of a zoo hit twice by organized crime thefts called for German zoos to cooperate on tracking down the stolen animals
Latest in a series of thefts
The apparent theft of Number 53 was just the latest in a string of thefts from zoos in Germany. In December 2015 two hyacinth macaws, worth up to 40,000 euros on the black market, were stolen from Krefeld Zoo. Just six months earlier thieves had stolen three of Golden Lion-tailed monkeys from the same zoo. Police suspected it was the same group of thieves in each case and local media reported links to eastern Europe at the time.
In September 2016 a suspected organized crime group reportedly stole 13 lemurs from their enclosure at a zoo in Thüle, west of Bremen, after disabling security cameras. The zoo director told a local paper that lemurs were in great demand, especially in Eastern Europe, where they are kept as pets or in private zoos.
In August 2015 thieves kidnapped three dwarf monkeys and two rodents from their enclosure in Dortmund. In November 2015 thieves stole a 70 centimeter long King Python from a zoo in Magdeburg, east of Berlin. Other cases include the theft of three kangaroo babies in Brandenburg, and a flamingo in Bremerhaven.
The director of Krefeld Zoo, which was struck by thieves twice, suggested a cooperative among German zoos to fight theft.
"In the face of theft, zoos could join forces and hire detectives to search for the animals," Wolfgang Dreßen told German news agency dpa.
"We are talking about a well-organized and Europe-wide illegal animal trade."
aw/rt (dpa, AP, AFP)