Hamburg was hit with its first clashes on Sunday evening ahead of what is expected to be a week of protests during the G20 summit.
A small riot erupted as police attempted to clear a protest camp in a city park, police said. The camp was approved as an assembly point but overnight camping had been forbidden.
In the evening, about 600 people had gathered and were erecting tents against police orders. Clashes erupted when police intervened, with officers using pepper spray.
One man was arrested, police said, and activists said several people were injured.
Read: Who is who in Hamburg's protest scene.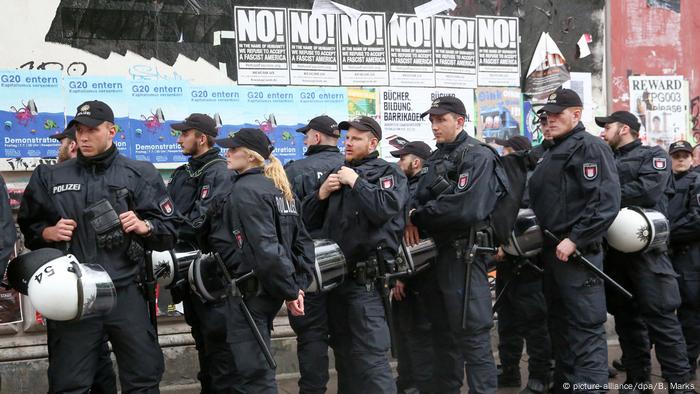 Thousands of police are being deployed to Hamburg for the summit
Earlier authorities had promised there would be some leeway for protesters.
"We do not want to become a fortress. In this city, criticism of the G20 will be given its space, too." That statement from the Senate, Hamburg's government, may come to haunt the city leaders.
On Sunday, German Interior Minister Thomas de Maiziere warned that violence at the G20 meeting would not be tolerated. Sunday was just the first day of a week of protests against the summit of world leaders in Hamburg, and an intense police presence has already descended on the city.
US President Donald Trump, Russian President Vladimir Putin and Turkish President Recep Tayyip Erdogan are particular enemies for much of the European left. The fact that they will meet in a densely populated, left-leaning part of Hamburg poses a huge headache for the police - and residents.
According to German media reports, German Chancellor Angela Merkel was due to meet with Trump in Hamburg on Thursday.
Read more: Germany blocks Erdogan rally around Hamburg G20
More than 100,000 protesters are expected at the largest demonstrations. In the anarchist and left-wing spectrum, police estimate there are around 4,000 people who are prepared to use violence in Hamburg.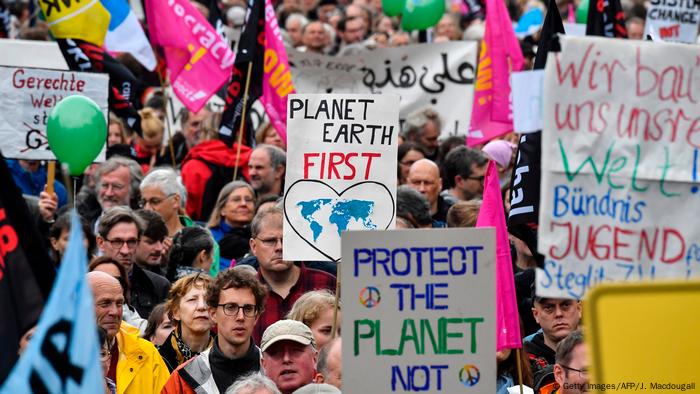 One week before the summit, thousands voiced their anger over climate change, capitalism and global conflict at the "Protest Wave" - a huge march and a flotilla of 200 boats on Hamburg's streets and waterway.
The demonstration was called by the German Trade Union Confederation, Greenpeace, Oxfam and 12 other organizations whose supporters reject violent protest. Svenja Angenendt, the Protest Wave spokesperson in Hamburg, said the G20 summit would be an opportunity to press for significant political change.
"We want democracy to be strengthened, better protection for our climate, social justice in Germany and worldwide, and we demand a fair global trade regime," she told DW.
Increased police presence
The first G20-related act of sabotage has already happened. On June 19, several coordinated arson attacks disrupted the rail network across Germany. They were claimed by an organization called "Shutdown G20: Take Hamburg off the Net." The police said the claim was authentic.
Hamburg already looks like a fortress. Two security zones are being set up around the G20 conference center, which has been guarded by police and security officials for weeks to prevent arson attacks.
Read more: Hamburg sends home Berlin G20 police over public sex & booze parties
For people living near the conference center, life during the summit will look very different. Residents in the security zone will need ID cards to get in and out. Many shops will remain closed for several days, and others have openly denounced the G20 for coming to Hamburg.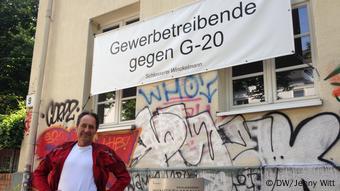 Locksmith Walter Winckelmann does not want the G20 summit to take place in his neighborhood
Most of the 600 children at a primary school near the venue will be taken out of lessons on July 6 and 7. A local old people's home that thousands of demonstrators will pass has placed banners on its facade, calling for a "peaceful encounter."
On the city's streets, two arguments are heard again and again. "They have to talk and they have to meet somewhere," say the pragmatists, who see the need for political dialogue, even if this means the presence of more than 15,000 police officers, miles of barbed wire and restrictions on public assemblies.
Read more: G20 - Angela Merkel sketches vision of French and German-led Europe
Why Hamburg?
Others, however, say it is an affront to host the G20 in Hamburg. There is anger that the summit takes place in the city instead of a remote location, where daily life would not be as badly affected.
Walter Winckelmann runs a small metal fabrications business near the conference venue. "We have put up a banner outside saying "Traders against the G20,'" he says.
"Why do they have to meet in the city center? It feels like they want to make a point, to say "we can push this through here in Hamburg." That is reason enough for me to be against it. I don't want politicians who represent politics and attitudes like Trump, Putin and Erdogan to be courted by this city."
Stefan Bandick runs a shop half a kilometer away that sells hearing aids. It will be closed July 7. "I have decided to close because I don't want my staff to have to come here, because we don't know what's going to happen. As for our customers: we do not expect anyone to come in to see us."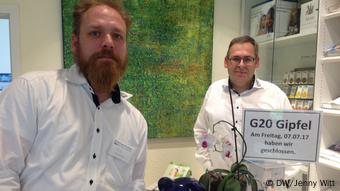 Stefan Bandick (right) and assistant Manuel Stein have told customers that the shop will be closed on July 7
But the mayor of Hamburg, Olaf Scholz, says this is a challenge Hamburg needs to take on - and the G20 may well be less disruptive than people expect it to be.
"There will be people who will be surprised on July 9 that the summit is over. In fact, I believe that this is a great thing for our city. We must not shy away from it."
The authorities, however, are bracing themselves for hundreds of arrests. A temporary detention center for 400 prisoners has been opened south of the River Elbe, miles away from the summit venue.
Judges at the city's central court are leaving their main building because access cannot be guaranteed. They are moving to a complex of container rooms next door to the detention center next week and will work around the clock there. Even cases that are not linked to the G20 protests will be heard there on July 7.
Read more: G20 stage set for climate change battle
There is no hysteria in this great trading city. But the cost of the summit and the violence that looks bound to happen will have to be weighed up against the benefits of hosting the G20.
And the massive security operation will keep the politicians in a world of their own - well isolated from the protesters, their demands, and the people whose city they are visiting.
(with AFP and dpa)