The Federal Constitutional Court's decision on Wednesday stated that the establishment of a protest camp during the G20 summit in Hamburg had to be supported by the city under laws governing the right of free assembly. However, the decision also highlighted that measures had to be taken to curb vandalism and other forms of destruction of the city park, where protesters are planning to set up their "anticapitalist camp."
The decision from Germany's highest court also said public funds to ensure the park's integrity had to be kept minimal. This still leaves the city of Hamburg some scope to decide how to limit the protest camp. One of the options that the Hamburg city government might resort to is moving the camp to another site.
Activists put up a banner early Wednesday on a bridge over the Elbe river (photo) which read "Build bridges, not walls" to protest against the migration policies of wealthy Western countries.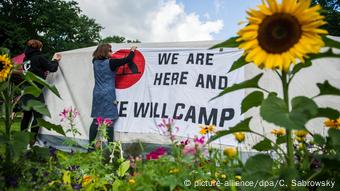 Not the final word
Protesters have been planning to erect and entire tent city in Hamburg's city park capable of hosting up to 10,000 participants in an estimated 3,000 tents from June 28 to July 9. The city of Hamburg had blocked the idea of the camp, stating city laws designed to protect the city's parks and recreational areas, while stating that erecting a campsite was not a provision protected by right of assembly laws.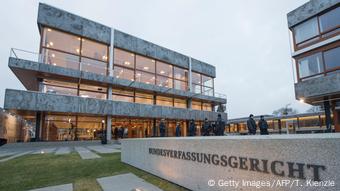 The decision had to be rushed through the Federal Constitutional Court in order to take effect in time for the G20 summit
The judges, however, in their decision said this was not an argument to keep the tent city from going up. The only reasons that could limit such assemblies, they reiterated, were security concerns, stressing that "the question of whether and how much the protest camp can be limited or possibly even banned with regard to public safety was not the subject of the decision."
Having to fast-track the decision due to time constraints, with only 10 days to go until the G20 meeting in Hamburg, the judges said the decision was a way to reach a "balanced compromise" before the summit.
The city of Hamburg will now have to reconsider its options following the decision from the Federal Constitutional Court, with citing security concerns being one avenue to try to push the ban through.
The G20 summit is due to take place in the northern German city July 7-8. A number of rallies and protests are expected to take place during the meeting of leaders from the world's 20 most industrialized countries.
jm/sms (Reuters, dpa, epd)