A court in Hamburg decided on Friday that a camp for G20 protesters cannot be held in the city park.
Camp organizers were required to obtain a permit from local authorities, which was denied. The organizers appealed this decision to the administrative court, which overturned the original ruling.
But in a final appeal, the Higher Administrative Court upheld the permit ban.
Demonstrators had been planning to gather to protest against the meeting of leaders from industrial and emerging countries at the G20 summit, which will be held in Hamburg on July 7 and 8. More than 3,000 tents and over 10,000 people were expected.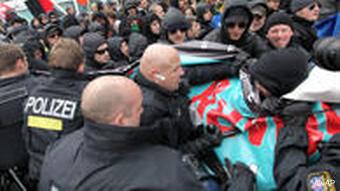 Protests have been banned from the area where the G20 summit will be held in Hamburg
Freedom of expression?
The legal question at issue was whether the camp ban was an infringement of the right to freedom of public expression. Camp organizers had argued that the camp was a form of semi-permanent demonstration. They claimed that the ban was being justified on the grounds of there being a police state of emergency in place during the summit.
In the decision on Friday, the court held that rather than being a demonstration, the camp was primarily offering overnight accommodation. This decision seemed to have turned on the fact that protesters would not be demonstrating around the clock or holding a vigil in which they would be presenting their views.
This was the final venue of appeal in Hamburg for camp organizers. However, it was suggested that as it may have raised constitutional questions on the interpretation of the right to the expression of public opinion, the appellants could seek to have their case heard at Germany's highest tribunal for such issues, the Constitutional Court.
cl/tj (dpa, epd, Reuters)