Greenland's government lost its parliamentary majority on Monday amid a row between coalition partners over the funding of a planned upgrade of the autonomous Danish territory's airports.
Prime Minister Kim Kielsen's four-month-old ruling coalition was left with only 12 of 31 seats in parliament after Partii Naleraq, a pro-independence party, quit over a plan for Denmark to part-fund the project.
Danish funding for the project would imply a direct involvement by Denmark in Greenland politics and "we do not want to be part of that", Naleraq said in a letter quoted by local broadcaster KNR.
Kielsen said he was seeking to form a new coalition.
"I will talk to other parties about whether there is a foundation for a new coalition," Kielsen said on KNR. He told newspaper Sermitsiaq that he hoped to avoid having to call a snap election.
The prime minister's social democratic Siumut party and the two other parties in the coalition, Atassut and Nunatta Qitornai, support Danish involvement in the project.
Opposition party The Democrats have said they were open to discussing with Kielsen the possibility of creating a new coalition.
Copenhagen over Beijing
The row over funding escalated after Kielsen's government picked Copenhagen as project partner over Beijing amid concerns that Chinese investment could upset the United States. Speculation had been rife about a possible investment by China since Kielsen's visit to Beijing last year.
The airports that Greenland plans to upgrade are of strategic interest to both Beijing and Washington.
China sees them as crucial to its "Polar Silk Road" project. The US, on the other hand, considers Greenland strategically important for its military and its ballistic missile early warning system, as the shortest route from Europe to North America goes via the Arctic island.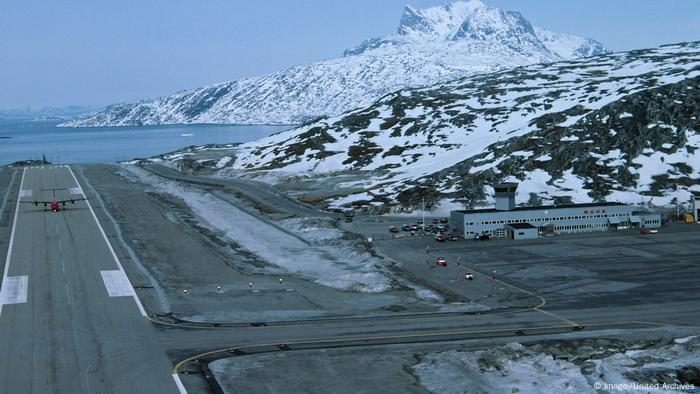 Greenland is upgrading its airports to benefit from growing activity in the Arctic.
Read more: China proposes 'Polar Silk Road' across Arctic to streamline trade
Greenland is upgrading its airports in the capital Nuuk, the tourist hub in Ilulissat and at Qaqortoq in southern Greenland to cater for direct flights from Europe and North America.
Kielsen on Monday agreed to let Denmark pay 700 million Danish crowns (€94 million, $109 million) for a 33 percent stake in the state-owned company set up to build, own and operate two of the airports.
The deal was finalized during a meeting with Danish Prime Minister Lars Loekke Rasmussen in Nuuk. Rasmussen said in June the Danish government, which controls the island's foreign and security policy, felt that it had a say in the airport project, considering its magnitude.
ap/jm (Reuters, AFP)
Each evening at 1830 UTC, DW's editors send out a selection of the day's hard news and quality feature journalism. You can sign up to receive it directly here.