Greek Defense Minister Panos Kamenos said on Tuesday that he had issued a formal complaint to the European Commission (EC) and NATO over the detention of two Greek soldiers in Turkey.
"It is an issue for the EU," Kamenos told reporters in Brussels.
The EC released a statement later, simply saying it hoped "for a swift and positive outcome of this issue, in the spirit of good neighborly relations."
Read more: Turkey arrests Greek soldiers on espionage charges
Greece's Kamenos said he hoped that raising the issue with NATO, of which both Greece and Turkey are members, would put further pressure on Ankara to release the servicemen.
Turkey detained the two Greek soldiers — a lieutenant and a sergeant — last week after they crossed the shared border into Turkish territory. The pair were later formally arrested on espionage charges.
The soldiers maintain that they were following footprints in the heavy snow, possibly made by migrants, and crossed the border into Turkey by accident.
Read more: Turkish warships block drilling rig near Cyprus
The incident has further strained relations between the two NATO allies, who have several longstanding disputes, from the division of Cyprus, to maritime boundaries and commercial rights.
Turkish court rejects Greek requests for release
Athens' complaints come a day after a Turkish court in the border city of Edirne refused a request for the release of the two soldiers.
Turkey's deputy prime minister, Bekir Bozdag, said after the ruling that prosecutors wanted the two soldiers detained for attempted military espionage as well as entering a forbidden military zone.
The judge, however, ordered their arrest only on the second charge.
Greece rejects Turkish extradition request
In an apparent direct response to Monday's ruling, a Greek court on Tuesday rejected a Turkish extradition request for a suspected Turkish left-wing militant arrested in Athens last year.
Naci Ozpolat, a 48-year-old Turkish citizen of Kurdish origin, was one of nine people detained for alleged terror links days before Turkish President Recep Tayyip Erdogan's visit to Greece last December.
The nine men face charges of belonging to the Revolutionary People's Liberation Party-Front (DHKP-C), a pro-Kurdish, Marxist group accused of carrying out several attacks and suicide bombings in Turkey since the 1990s.
Turkey, the EU and United States consider the DHKP-C a terrorist organization.
The Greek prosecutor recommended the court throw out Ankara's request on the grounds that Ozpolat risked being tried in Turkey for offenses other than those listed on the extradition request.
Read more: In Greece, Turks tell of lives full of fear in Recep Tayyip Erdogan's Turkey
Ozpolat also told the judge that he was in Germany when the alleged attacks happened in Turkey.
The court had already refused the extradition against one of the other suspects, 60-year old Mehmet Dogan, last month.
The decision infuriated Turkey, which accused the Greek courts of protecting terrorists and acting in a manner "not befitting neighborly behavior."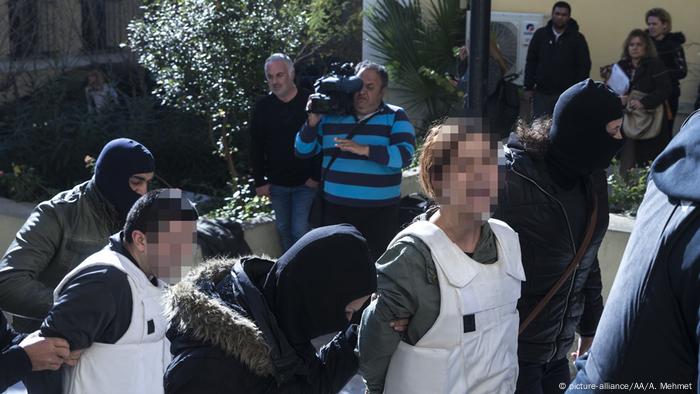 Greek anti-terror police detained nine suspected DHKP-C members in the days leading to Erdogan's visit to Athens
Every evening at 1830 UTC, DW editors send out a selection of the day's hard news and quality feature journalism. You can sign up to receive it directly here.
dm/jm (AP, Reuters, dpa)