A Turkish court on Monday rejected a request for the release of two Greek soldiers who were arrested for illegally entering the country illegally entering the country.
The two men were arrested on Friday for entering a prohibited military zone in the northern province of Edirne.
Turkish media at first reported that the pair were arrested for "attempted military espionage." Greek authorities have denied that claim.
According to the soldiers, they told prosecutors last week that they had mistakenly entered through a border crossing after "following footprints in the snow in an attempt to stop migrant smuggling."
Turkish Deputy Prime Minister Bekir Bozdag said on Monday that prosecutors wanted the two soldiers detained for attempted military espionage as well as entering a forbidden military zone. The judge, however, ordered their arrest only on the second charge.
The Greek army said the lieutenant and sergeant lost their way in poor weather while patrolling by the Evros river which divides the two nations. The river marks most of the Greek-Turkish border, while a fence runs along much of the land section. Some parts however, are not clearly marked.
Before the court made its decision, Greek Foreign Minister Nikos Kotzias, urged its NATO ally Turkey "to apply the provisions of international law and not turn a routine procedure into a major legal and political problem".
Bozdag told reporters in Ankara "there was no question of an exchange" for the Turkish military personnel, echoing comments made at the weekend by Athens.
"We are not at war with Turkey to conduct an exchange of prisoners," junior foreign minister Yiorgos Katrougalos said Saturday.
Family members of the two soldiers had a chance to visit them in jail Monday.
Relations tense between NATO allies
Turkish and Greek relations have been complicated by a number of issues including the failure of Greece to extradite eight Turkish soldiers who escaped to Turkey by helicopter on the night of the July 2016 attempted coup to overthrow President Recep Tayyip Erdogan.
Turkish and Greek vessels have also collided twice off small Aegean islands that have been a historic flashpoint in a long-running demarcation dispute.
Tensions are also high over Cyprus as Turkey has promised to prevent attempts by the internationally recognized Greek Cypriot government to exploit oil reserves off the Mediterranean island.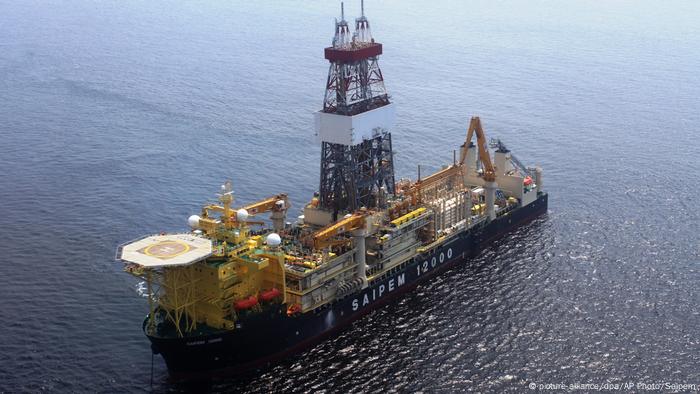 An oil exploration platform prevented from exploring for oil off Cyprus by Turkish warships.
The northern part of Cyprus is still occupied by Turkish troops following the 1974 invasion in response to an Athens-inspired coup aimed at uniting it with Greece.
av/rc (AFP, Reuters, AP)
Each evening at 1830 UTC, DW's editors send out a selection of the day's hard news and quality feature journalism. You can sign up to receive it directly here.