As he revealed two new models of Google's Pixel brand of smartphone on Wednesday, Chief Executive Sundar Pichai said the company was moving from a "mobile-first" to an "AI-first" business, in reference to the artificial intelligence that the tech giant says drives its new phones.
"It is radically rethinking how computing should work," Pichai told a packed launch event in San Francisco. "Computers should adapt to how people live their lives," and not the other way around.
Read more: Dan Brown's new novel 'Origin' pits artificial intelligence against religion
As it launched the second generation Pixel phones, Google said that while breakthroughs in new hardware technology were becoming increasingly difficult to achieve, the next big steps forward will come from AI or machine-learning.
One analyst said the technology offered by the new Pixel models was the equivalent of a backup for the human brain.
Harnessing machine-learning technology
Among the new features on the Pixel phones is Lens, an image-recognition app which allows a user to point a camera at a street billboard to find useful information about the product being advertise.
Another feature can identify background music from just a few seconds of audio. Users can then listen instantly to the whole track via YouTube or other audio/video platforms. The phone has stored the digital "fingerprints" of tens of thousands of songs which are updated weekly.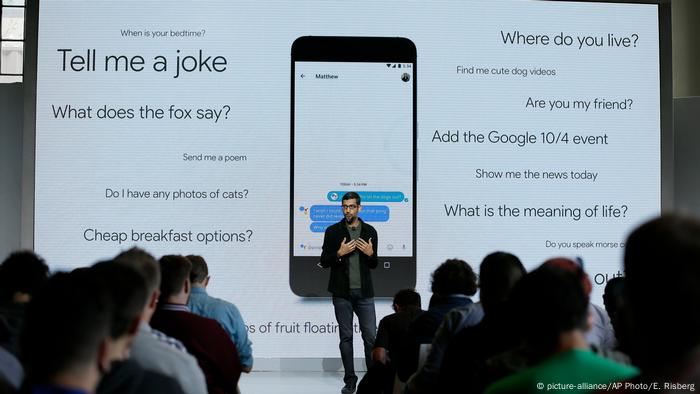 Google CEO Sundar Pichai hails the move towards an "AI-first" company
Along with the new smartphones Google also launched new AI-driven headphones, new networked smart-speakers and a small camera, that uses AI to allow the device to automatically learn when to snap pictures or record video of candid moments.
The Google Pixel Buds headphones, together with the Pixel phone, can handle live translations from scores of languages. During the launch event, a demonstration showed a conversation between two people using the devices, one speaking Swedish, the other English.
The Pixel 2 smartphone comes in two sizes but has no traditional jacks for headphones. Prices for the base model start at $649 (550 euros), while the high-end version starts at $849. The phones will be available October 19.
Read more: Apple unveils smart home speaker
The mini-version of the Google Home speaker is priced at $50, along with a more advanced model at $399, which uses AI to adjust the sound to the ambiance or size of a particular room.
The Google Clips camera is priced at $249 and can recognize people and animals, and can automatically take shots of those moments that are hard to capture manually.