It was Ghana's biggest World Cup moment - the quarter final of the 2010 tournament in South Africa when the Black Stars faced Uruguay for a place in a World Cup semi final.
The game is tight and Ghana are fighting for their lives. With only a few final moments left, Ghana are awarded a penalty and the chance to secure progression. Asamoah Gyan stepped up, as Ghana, and perhaps even most of Africa, waited with baited breath.
Gyan's penalty hit the bar and the Black Stars went onto lose on penalties. They would have been the first African side to have made the final four of a World Cup.
Despite all of the pain that came with the defeat, Ghana and Schalke star Kevin-Prince Boateng remains confident his side can break new ground for African sides, as his side prepare to face Germany in the second match of the group stages.
"Every World Cup is different," he said. "We want to be Africa's hope again. We will do all we can to go as far as we can in the competition, and we want to surprise people all over again."
"This time Ghana will win"
A defeat against the United States last week, courtesy of a late winning goal from Hertha BSC's John Anthony Brooks, has put Ghana's aspirations of place in the Round of 16 in jeopardy. A win against the Germans appears imperative.
Just like in 2010, there will another "battle of the Boateng brothers" as Germany's Jérôme faces Ghana's Kevin-Prince. Back then, Germany won 1-0 in a close game, but Kevin-Prince thinks this time things will go differently.
"It's a blessing that I get to play against my brother again, and at a World Cup too. But this time Ghana will win," said the Ghanaian midfielder.
It would be the first win for the West African team - Germany have won both of the two fixtures so far. The older of the two Boateng brother's clearly isn't lacking in any confidence, but is also aware that progression out of the group will be tricky.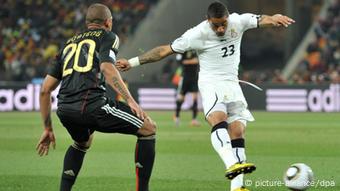 Kevin-Prince and Jerome face another "Battle of the Boatengs" on Saturday.
"It's a great group and there's no doubt it will be fun to play in," said Kevin-Prince. "I think anything is possible. You always want to measure yourself against the best in the world and that's why we're at a World Cup."
Midfield stars
A disappointing fourth-place finish at the 2013 African Nations Cup and defeats against Burkina Faso and Mali have marred Ghana's tournament preparations.
Indeed, it took a play-off victory against Egypt to secure their ticket to Brazil. The experienced and technically strong Black Stars remain confident of success at the World Cup, in spite of the 2-1 USA loss.
With AC Milan's Michael Essien, exciting midfielder Kwadwo Asamoah from Juventus and UEFA Champions League participant Boateng, coach Appiah can look to some top players from Europe's biggest leagues to lead Ghana to success.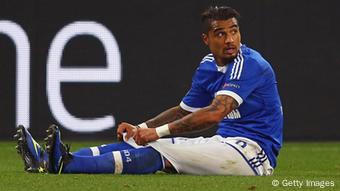 Boateng returned to Germany to join Schalke 04.
"I think we are strong, stronger than we were in 2010. The most important thing we need is discipline. If we can master that, then I think we can also spring a few surprises," said Boateng.
"It's a different type of football, from a different culture. You always want to play attacking football, score goals and that means defense is sometimes of little interest."
"We pray a lot"
The Black Stars have faced difficult opposition in the shape of the USA - the group has been tagged the "Group of Death" with Germany and Portugal to come - but Brazil's difficult climate could help them though, particularly, when it seems likely that a number of European countries will struggle with the conditions.
The weather, the star players and the confidence should help Ghana progress to the knockout stages.
"We pray a great deal, and our thoughts are accompanied by drums. We do this before games, after games - every day really," said Boateng.
Yet, he believes more in the quality he has in his fee, and if that proves true then Ghana could well provide yet another surprise on football's biggest stage.