The lead candidates of the Alternative for Germany (AfD), Alice Weidel and Alexander Gauland, are not to be envied at the moment. Not only are the right-wing populists going through a two-year low in opinion polls, but public concern about migrants and refugees - the party's only winning issue - is also on the wane.
That was no doubt one reason why Weidel began a press conference on Monday by describing a nightmare scenario of millions of migrants from Africa pouring into Germany in the years to come, with each one costing the country some 75,000 euros ($88,000) a year.
The number of migrants arriving in Germany fell dramatically in 2016 to only around 280,000, down from 890,000 in 2015. In 2017 those figures have declined even further. But Weidel said that migration was set to rise again and accused Chancellor Angela Merkel of having no plan to deal with the issue.
"From our perspective, the government's policies offer no long-term, sustainable solutions and ideas for these problems at all," Weidel said. "There's a lot of talk, particularly in election periods. But absolutely nothing gets done."
10 things you need to know about Germany's right-wing AfD
Sending migrants back
The AfD used the press conference to present its own ideas for asylum and development aid. Its solution to what it terms the migrant "crisis" is to scrap constitutional guarantees that people who feel threatened in their homelands are able to apply for (but not necessarily receive) asylum in Germany. The populists would also like to cancel all the money Germany currently spends on refugees and bolster development aid to foreign countries that take an active role in preventing people from coming to Germany.
In addition, they suggest that the German navy should return refugees on the Mediterranean to the countries they embarked from, regardless of whether those countries are safe. And they want the Ministry for Economic Cooperation and Development to be made subordinate to a Foreign Ministry that would think solely in nationalistic terms.
"German interests must be guiding principles and not that whoever happens to be visiting here right now gets some sort of development program," said Gauland, who later quoted US President Donald Trump: "It's not always America First. Sometimes it's Germany First."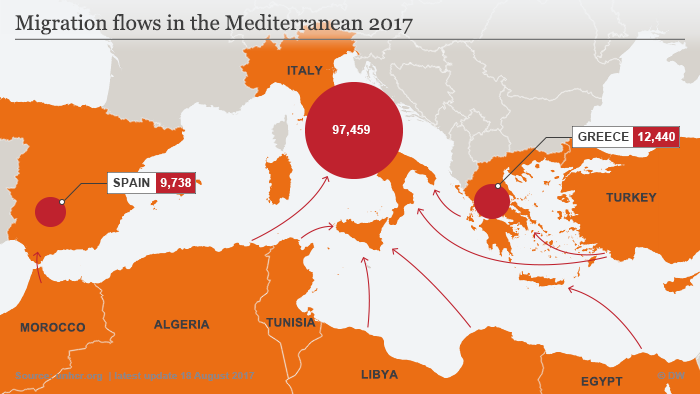 The Mediterranean has become the main route for migrants to Europe
Ears closed to humanitarian concerns
The AfD would like to present their suggestions as a "humane" alternative to the current situation, where governments and NGOs have faced accusations of involuntarily encouraging human traffickers. And on the surface, the prospect of more money being devoted to development aid, particular what the AfD is calling "lighthouse projects" to encourage self sufficiency, would potentially benefit African countries as well as Germany.
But a second glance reveals how impractical and inhumane the right-wing populists' proposals are. When asked to name three countries from which large numbers of refugees migrate to Germany that could receive more development aid, Gauland could only come up with Eritrea and Nigeria - and then had to concede that as a dictatorship with one of the world's worst human-rights records, the former probably wasn't an appropriate partner for lighthouse projects. Tellingly, the position paper issued by the AfD mentions no African countries at all that the populists would specifically target for help.
Another major issue is the demand that refugees rescued from boats on the Mediterranean be taken back to the countries from which they set sail, including Libya, which is in the midst of a civil war. When challenged on how Germany could get Libya and other North African nations to accept migrants back who are not their own citizens, Weidel grew testy, muttering something about "treaties."
Gauland argued that it was acceptable from a humanitarian perspective to drop off migrants in countries that might not be safe because they had accepted the risk of passing through them in their attempts to make it to Europe. And he said that the German government should reduce its aid to "zero" to any countries that didn't sufficiently cooperate on blocking the flow of migrants to Germany.
Manufactured fear and false facts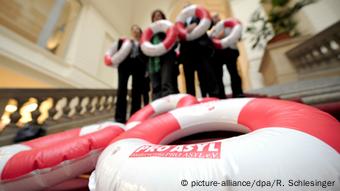 Advocacy groups say too little attention is being paid to human rights
Not surprisingly, asylum-seeker advocacy groups such as Germany's ProAsyl don't think much of the AfD's proposals and say that they are based on completely false premises, starting with the prospective numbers of future migrants.
"This is just an attempt to create panic and fear," ProAsyl managing director and co-founder Günter Burckhardt told DW. "The vast majority - 80-90 percent - of refugees stay in neighboring regions. That's a fact. Most refugees lack the money to travel long distances."
Burckhardt says that the AfD's proposals to return refugees to countries where their lives are endangered would not only violate German law as it stands, but also contravenes the European Convention on Human Rights. And he worries that some elements of what the AfD proposed are gradually becoming policy, as European governments try to cope with migration across the Mediterranean.
"We're experiencing a decay of values within the European Union in which a consciousness of the rule of law and the preservation of human rights is getting lost," said Burckhardt. "The idea of shutting borders and transporting the problem to Libya is growing more popular in Europe."
Trying to reverse a decline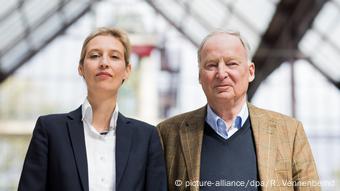 Weidel and Gauland are the AfD's lead candidates in the election
When asked why the AfD had chosen now, just over a month before Germany's national election, to publish its position paper, Weidel said it was because Merkel would meet with the leaders of France, Italy and Spain next Monday to discuss the refugee and migrant issue.
But reporters suggested the true rationale was the decline of the AfD to 7 percent in pre-election opinion polls. As recently as last year, buoyed by public uncertainty over large numbers of migrants and refugees, the right-wing populists garnered more than 20 percent of the vote in local elections.
So it's not a huge imaginative leap to read the AfD's latest initiative as an attempt to revive the migrant issue that once served the party so well.
"The AfD is trying with all its might to attract attention and to force an issue," Burckhardt said. "Their choice of words is aimed at trying to overcome their dip in the polls."
The weeks to come will show whether that strategy is a success, but conditions have changed since 2016. A poll commissioned by Bild newspaper and published on Sunday found that only 29 percent of voters considered limiting immigration to be extremely or very important. That's something the AfD hopes to change between now and September 24.