It's becoming something of a weekly ritual. Every Sunday, opinion polls for Germany's national election on September 24 are published that put Chancellor Angela Merkel's conservative CDU 15 percentage points ahead of the Social Democrats (SPD) and Martin Schulz.
The results are so consistent they're almost eerie. A survey published on August 19, five weeks before Germans were due to cast their ballots, has the CDU at 39 percent to the SPD's 24 percent. Nothing the SPD and Schulz do - and the Social Democratic candidate for chancellor is issuing statements and making appearances throughout Germany on a daily basis - seems to be able to move those numbers.
Journalists are running out of ways of saying that this race is already essentially decided in Merkel's favor. Bookmakers make the incumbent a 1.08-to-1 favorite to be returned to office.
Read more:Angela Merkel wows opponent's voters on home turf with predictability
But do these estimates and odds necessarily spell doom for the Social Democrats? Another poll, commissioned by Germany's leading tabloid, Bild, and published on August 20, holds out a glimmer of hope. The issues that rank highest in importance to German voters are ones on which the SPD traditionally does well.
Fairness tops voter concerns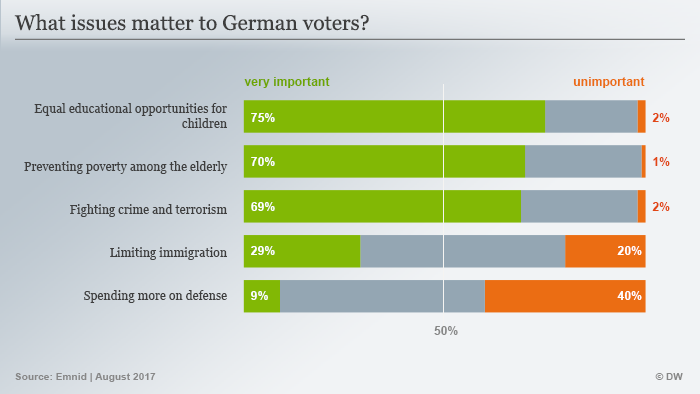 Voter concerns in Germany show a clear trend the SPD could exploit
In the Bild poll, 1009 respondents were asked how important various issues were for their decision on how to cast their ballots. Topping the list by comfortable margin was "equal educational opportunities for all children," which 75 percent of those asked deemed extremely or very important.
The SPD has made social equality the main theme of its campaign - its leading claim is "Zeit für mehr Gerechtigkeit," or "Time for more fairness." Moreover, according to the poll, the second most important issue, poverty among the elderly, was also one of social equity. It isn't until the third spot that a topic on which the CDU is traditionally strong, security, appears.
Looking at the entire list of 20 issues covered by the Bild poll, questions of social equity were also generally given greater weight than traditionally conservative or right-wing issues. Only 29 percent of those asked said that it was important to limit immigration - that could be bad news not only for conservatives but also for the anti-immigration right-wing populist Alternative for Germany (AfD). Hardly any of the respondents, 9 percent, prioritized increased defense spending.
Read - How does the German election work?
This should be good news for the SPD. Germany's leading political opinion institute, the Forschungsgruppe Wahlen, says that over the past eight years the SPD has been regarded as the political party with the most expertise and ability on "social topics" and "social equity."
Amidst their dismal showing in surveys about whom Germans prefer to lead the next government, Social Democrats have consistently insisted that they have the right issues to pull off an upset in September. The Bild poll suggests that this view may be more than just putting on a brave face ahead of impending disaster.
But conversely, the Bild poll could also be interpreted as highlighting Schulz's weakness as a candidate and the shortcomings of the SPD's campaign strategy as a whole.
Straight out of Würselen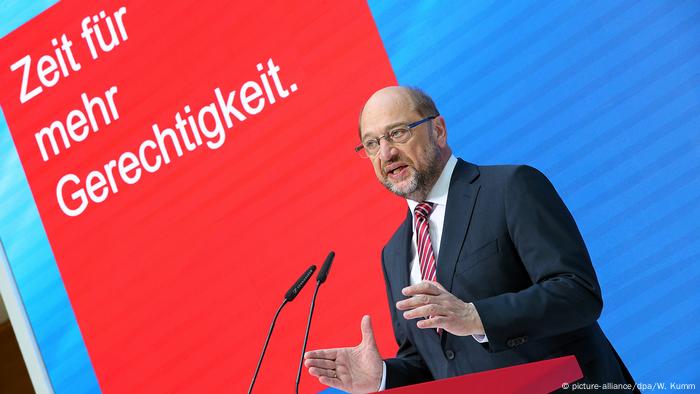 Schulz's campaign thus far has been traditional and a bit tedious
The conservatives have made Angela Merkel the centerpiece of their campaign, and it's easy to see why. According to the Statista polling organization, when people were asked whom they would vote for directly for chancellor, the incumbent crushes her rival Schulz by a whopping 51 to 22 percent, with 27 percent saying neither. That suggests that the SPD's problem may not be the message but the messenger.
Another problem could be the style in which the message and messenger are being promoted. Ironically, this year, it's the conservatives who seem more modern and innovative when it comes to election strategy, while the Social Democrats are the traditionalists. That became apparent late last week as the two parties each unveiled major campaign advertisements and initiatives.
Read - SPD unveils German election plan to challenge Merkel
Schulz is being billed as a candidate who returns the SPD to its left-wing, labor-movement roots. Slogans like the slightly risible "Straight Out of Würselen," playing on the small town where Schulz is from, seek to give him a kind of old-school authenticity. At a press event last Thursday, reporters were invited to watch a TV ad campaign and were then given a tour of campaign headquarters, a succession of stuffy offices where bleary-eyed volunteers sat in front of computer screens.
Afterwards, other volunteers were loaded on buses for some door-to-door work. SPD General Secretary Hubertus Heil, who hosted the event, was buttoned-down, well-rehearsed and a little dull. With his headset microphone, he could have almost been the presenter of a home-shopping program.
A 'walk-through' party platform
The conservative CDU, on the other hand, is pulling out all the stops to depict itself as the party of the future. Its core message may be "Germany's doing well - stay the course," but the presentation is high-tech, slick and even experimental. On Friday, CDU General Secretary Peter Tauber, wearing a natty suit and fiddling expertly with a smart phone, introduced reporters to his party's new "walk-through party platform."
It's a rented event location in a disused building in a trendy section of the central Mitte district of Berlin, redesigned by one of Germany's hippest advertising agencies into a space illustrating conservative positions on a variety of issues and underscoring the achievements of Merkel's government.
A host of attractive young women greet you when you walk in the door, and there is a variety of interactive installations and video-screen games thematizing everything from state support payments for child education to the government's efforts to combat internet hate speech and cyberterrorism. The centerpiece is a 750-kilo (1,653-pound) beating heart surrounded by LED screens containing information about the "heart of German society" - the economy.
Read - Angela Merkel takes to YouTube to woo young voters
The idea is to visualize the party's positions, a spokesperson there says, in the knowledge that few of the voters who make their way to the polls on September 24 will actually take the time to read through the lengthy platforms published by all the German parties in the election. The space will venue for "tweet-ups" and "Instawalks," and Merkel will stop by to invite local residents for a coffee after she's finished taping a Q&A session for a "townhall meeting" to be broadcast Sunday evening on German TV.
One of the friendly women at the door says that the walk-through party platform attracted "hundreds" of visitors on its first full day. The SPD would say that this is another instance of the CDU putting style over substance. But it's up to the Social Democrats to show that they can promote their substance and counter Merkel's style. Otherwise, if the polls are an accurate reflection of voter sentiment, the incumbent is going to cruise to a fourth term in office.