German Foreign Minister Heiko Maas promised aid for countries that border Afghanistan on Sunday.
He made the announcement as he embarked on a trip which involves five countries, all of which are playing a role in the ongoing efforts to get those in need of protection out of Afghanistan.
His first stop was Turkey, which could play a key role in operating the Kabul airport and the reception of refugees, as thousands seek to flee the Taliban.
"It is in our own interest to prevent the collapse in Afghanistan from destabilizing the entire region," Maas said as he promised humanitarian and economic aid. He also called for international coordination in dealing with the Taliban.
Turkey: Coping with another migrant wave is 'out of the question'
But Turkey has said it cannot take the burden of a new migrant influx from Afghanistan.
"As Turkey, we have sufficiently carried out our moral and humanitarian responsibilities regarding migration," Turkey's Foreign Minister Mevlut Cavusoglu said after talks with Maas.
Turkey currently hosts 3.7 million Syrian refugees as part of a 2016 deal with the European Union.
"It is out of the question for us to take an additional refugee burden," Cavusoglu added.
Visit to neighboring countries
After Turkey, Maas also plans to visit Uzbekistan, Pakistan and Tajikistan, three of Afghanistan's neighboring countries, as well as Qatar, during what was scheduled to be a four-day trip.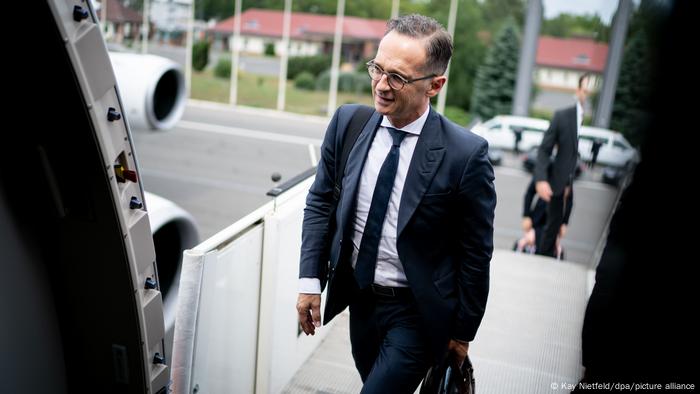 Maas said Germany will stay committed to evacuation people out of Kabul
His visit to Qatar is also of note as the country has actively participated in the evacuation effort from Kabul following the Taliban takeover.
Qatar's capital city of Doha houses the political office of the Taliban, functioning as the Foreign Ministry of the new regime in Afghanistan.
German negotiator Markus Potzel has been in talks with the office on issues related to evacuations.
Germany not walking away
Ahead of his trip, Maas said in a statement that the evacuation effort to date has been a "tour de force involving many partners" and that the situation in Afghanistan remains "extremely volatile and dangerous."
"Not only Afghans but also neighboring states are facing challenges that they can hardly overcome on their own," Maas added, referring to the mounting refugee crisis.
"I am traveling to the region today to highlight this: Germany's commitment does not end with the conclusion of the military evacuation mission."
The minister said cooperation should now focus on reaching an "agreement with Afghanistan's neighbors on how Germans, our local forces and other Afghans in need of protection can reach Germany quickly and safely."
"It also includes our offer to neighboring states to help them cope with the humanitarian and economic consequences."
Border evacuation now inevitable
Maas is expected to take part in talks that will allow evacuees to get from the Afghanistan border to German embassies quickly and safely.
The visit comes three days after the last Bundeswehr rescue flight took off from Kabul on Thursday.
According to official figures, 5,347 people from at least 45 countries were brought to safety on 37 flights under the German evacuation mission.
This included about 500 German and 4,000 Afghan citizens who feared for their safety after the takeover of the radical Islamist group.
More than 10,000 people still need to be evacuated, including 300 Germans.
In order to bring them out of the country by land, Germany is relying on cooperation with Afghanistan's neighbors.
mvb, jsi, see/mm (dpa, AFP, Reuters)