On May 29 1993, a group of xenophobic arsonists burnt down a half-timbered house in the western German city of Solingen. Five girls and women of Turkish descent were killed. Saime Genç was the youngest victim, at just four years of age. The other victims were nine-year-old Hülya Genc, Gülüstan Öztürk, 12, Hatice Genc, 18, and Gürsün İnce, 27.
The perpetrators were quickly identified as a group of youths and men aged between 16 and 23 years old. All of them were reported to be members of the far-right skinhead scene in Solingen and worked out together in a martial arts school, which was later revealed to be run by an informant of the North Rhine-Westphalia domestic intelligence agency. Investigations revealed that one of them, 16-year-old Christian Reher, had previously distributed leaflets expressing his hatred of foreigners. He lived close to the house that was burnt down and was the first to be arrested. Another, 19-year-old Christian Buchholz, had kept a diary that contained anti-foreigner diatribes.
Read more: Solingen victims remembered 20 years on
In 1995, they were sentenced to prison terms of 10 to 15 years for five counts of murder, 14 counts of attempted murder and arson. "Solingen will be burned into post-war Germany's history books as being the site of the high point of xenophobia," said attorney Rainer Brüssow, who represented the Genc family.
Attack followed tightening of asylum rules
While there is no causal connection, it's worth noting that the attack in Solingen happened just three days after the German Bundestag moved to massively restrict the right to be granted asylum. The governing coalition made up of the Christian Democratic Union, the Christian Social Union (CDU/CSU) and the Free Democrats (FDP), supported by opposition Social Democratic Party (SPD), approved changes to the German constitution. On the basis of Article 16 of the constitution, an unrestricted right of asylum had applied in Germany up to that time. Its abolition was a political response to a massive increase in the number of asylum seekers from the late 1980s onward.
Read more: Opinion: Solingen hasn't taught us enough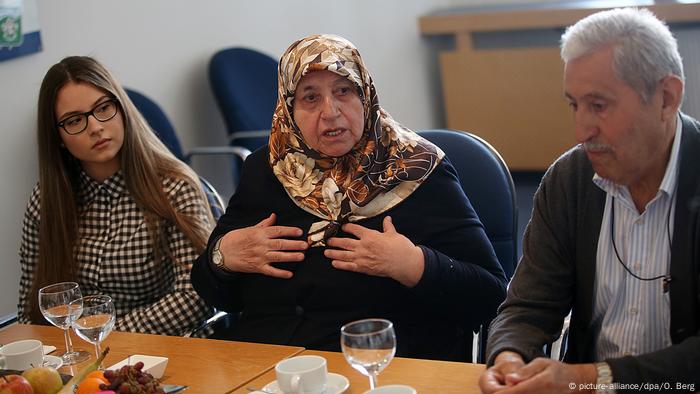 Mevlüde Genc (center) lost two daughters, two granddaughters and a niece in the arson attack
For many years, the annual number of asylum seekers had remained well below 100,000. But in 1990, there were almost 200,000 applications, and two years later this more than doubled (438,191). During this period, right-wing extremist parties such as the Republicans were very successful in elections, including in western Germany. They achieved their best result in the traditionally strong economic region of Baden-Württemberg, with almost 11 percent in 1992. In the east, they were eventually elected to state parliaments, similarly to the far-right, ultra-nationalist National Democratic Party (NPD).
At that time, racially motivated attacks were anything but a rarity, and were often fatal. In August 1992, the pogrom-like siege of houses in Rostock-Lichtenhagen in northern Germany, inhabited mostly by Vietnamese, made headlines worldwide. An angry mob set fire to the buildings, accompanied by cheering onlookers. The fact that no one died was sheer luck.
Read more: Right-wing extremism 25 years after Rostock-Lichtenhagen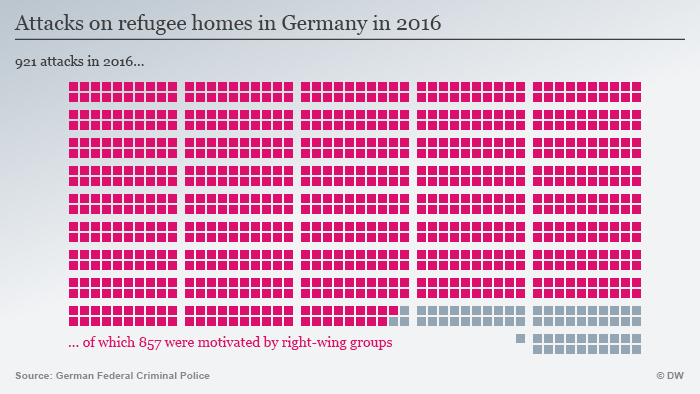 The mood was 'poisoned'
In the early 1990s, the slogan "Foreigners out" encompassed the xenophobia on display in a number of German towns and cities. Several factors contributed to the racist sentiment. In the former East Germany (GDR), the previously state-controlled planned economy had collapsed in the wake of reunification. Millions of East Germans became unemployed or felt like second-class citizens for other reasons. For those in search of a scapegoat, "foreigners" offered an easy target.
The GDR had far fewer foreigners than the former West Germany (FRG). Nevertheless, the frustration many in western Germany felt about new societal impositions post-reunification was offloaded onto visible minorities. In the east, these were mainly Vietnamese or Angolans who had been brought into the country in GDR times as so-called contract workers. Many native-born Germans blamed them for their own misery, without reason.
Anetta Kahane, head of the Berlin-based anti-racist Amadeu Antonio Foundation, says it is easy to draw parallels between the explosive mood 25 years ago and the situation today. She says the question of how many refugees should be allowed into the country is routinely linked to the question of "whether there are not already too many foreigners." This association, combined with a tendency to view foreigners and refugees as intruders and outsiders "has very much poisoned the mood," Kahane said.
The resulting social climate also cost the Foundation's namesake his life, a few weeks after German reunification. Amadeu Antonio, originally from Angola, was beaten to death in Eberswalde near Berlin in November 1990 by a group of right-wing extremist youths armed with baseball bats. Five of the attackers were sentenced to a maximum of four years in prison, others were given suspended sentences.
Kahane accuses those in politics at the time of the spate of attacks of a very specific pattern of action that had a hugely detrimental effect on the way migrants were treated. Politicians and authorities, she said, responded to the rise in xenophobic attitudes towards migrants by restricting the number of those allowed into Germany and thus sending out a "very bad signal."