Police said up to 500 protesters took to the streets of Freiburg on Monday for a demonstration against the suspected gang rape of an 18-year-old female student.
The demonstration, which was organized by the far-right Alternative for Germany (AfD), also drew about 1,500 counterprotesters, some of whom accused the party of exploiting the crime to incite anti-migrant sentiment.
"I hope the demonstrations will be peaceful and will not lead to further violence and hatred," Freiburg Mayor Martin Horn told DPA news agency. "In Freiburg, there is no room for criminals and such terrible crimes."
Read more: German city of Cottbus grapples with violence between locals and refugees
Gang rape
On Friday, police arrested eight men suspected of committing the crime. At least seven of them were Syrian men between the ages of 19 and 29, while the other was a 25-year-old German citizen. Authorities said many of the suspects were already on their radar.
The woman said she had met one of the men at a club. The man is believed to have spiked the woman's drink with a date rape drug. Police said they found traces of such a substance. The victim said she was defenseless when the suspects took turns raping her.
Authorities said that DNA evidence found on the woman was traced to at least one of the suspects. The investigation is ongoing.
Read more: German states look to reintegration to reduce migrant crime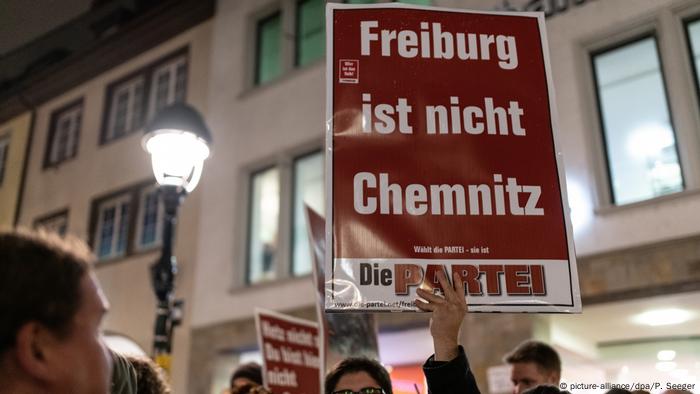 One counterprotester held up a placard from the left-leaning satirical party die Partei that read, "Freiburg is not Chemnitz," referring to the eastern city where the death of a German man triggered riots
Tense debate
Tensions are high as the country continues a debate about links between foreign nationals and crime. In March, an Afghan asylum seeker was convicted and handed a life sentence for the murder of a medical student in Freiburg.
In August, the murder of a German man with Cuban origins triggered riots in the eastern city of Chemnitz after a Syrian and Iraqi man were detained as suspects and charged with manslaughter.
A study published earlier this year argued that better integration options were the best way to decrease crime rates among migrants.
Read more: In Germany, justice varies from place to place
ls/msh (dpa, AP)
Each evening at 1830 UTC, DW's editors send out a selection of the day's hard news and quality feature journalism. You can sign up to receive it directly here.