After two weeks of meetings in Cancun, officials from 194 countries reached a consensus on several important measures for tackling climate change, despite fears that the talks would end in failure on Friday and even early Saturday morning.
"This is a new era of international cooperation on climate change," Mexican Foreign Minister Patricia Espinosa, who chaired the summit of 194 nations, told delegates after the compromise was reached.
Praise for Mexico from Germany
Germany has welcomed the "successful" conclusion to the UN summit. German foreign minister Guido Westerwelle thanked his Mexican counterpart who chaired the summit, saying that Patricia Espinosa had been "prudent and clever" in the way she led negotiations.
German environment minister Norbert Roettgen echoed his colleague, saying Espinosa's very broad interpretation of UN rules was the crowning highlight of impressive conference leadership.

There were at least 900 natural disasters in 2010, the warmest year on record
Westerwelle said in a statement, "Cancun has shown that it is possible to achieve a balance of interests between developing and industrialized nations."
"Now we must use the momentum to achieve a globally binding climate protection agreement and resolve the open issues," Westerwelle added. He stressed that Germany and the European Union would continue to drive this process.

A compromise agreement
The meeting does not establish a new global, legally binding treaty to tackle climate change, but it provides some of the essential building blocks bringing that goal significantly closer.

Breakthroughs include an acknowledgement of the need for tougher targets for cutting greenhouse gas emissions, the principle of basing these targets on what science demands and the establishment of a Green Fund for developing countries.
An ambition to limit global warming to below 2 degrees is also contained in the text, together with a reference to reviewing whether it might be possible to aim for 1.5 degrees.
The latter goal is what many small island states are holding out for, in the fear that a 2-degree rise in temperatures will see their islands submerged by rising sea levels.
Only Bolivia has publically objected to the text, but its objections were overruled by the summit's chair.
"We clearly stated and would now like to reiterate that we are opposed to this decision and we feel that there is no consensus for its approval," said Pablo Salon, the head of Bolivia's delegation.

Changes to the Kyoto Protocol, which expires in 2012, were put off until next year
Major powers - including the United States, China, India, Japan, Brazil, Saudi Arabia and the European Union - have emerged as supporters of the draft deal, which resolves key stumbling blocks that threatened to torpedo the past two weeks of negotiations.
"We have seen remarkable progress," Espinosa said.
Chief US negotiator Todd Stern said the deal "while not perfect, is certainly a good basis for moving forward."
Climate Fund a key step forward
One of the most significant decisions at Cancun was the agreement to establish a Green Fund worth $100 billion (70 billion euros) a year that is to assist developing countries in their response to climate change as of 2020.
The idea was originally put forward in Copenhagen last year, yet at times it seemed unlikely to gain approval in Cancun.
Negotiators often seemed unable to resolve differences over what to discuss first: Whether to create the fund or how it should be managed.
Greenpeace International Climate Policy Director Wendel Trio told Deutsche Welle the decision to establish the fund was a "significant" step forward.
Providing the finance that developing countries will need to cope with climate change is seen as a major sticking point for unlocking other areas of the talks, such as how they account for their climate actions.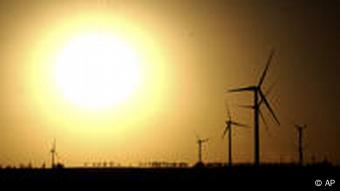 The sun hasn't set on climate talks - they'll be more in South Africa next year
Industrialized countries seem to have won out on control of the fund. Their preferred institution, the Word Bank, will act as a trustee, albeit for a trial period of three years.
Trio said one of the biggest challenges for the next 12 months would be agreeing upon where the money should come from, as this was left unresolved by the Cancun deal.
Kyoto deferred
One delegation after another praised Mexico's stewardship of the negotiations, describing the atmosphere as "transparent," "inclusive," "constructive" and the outcome as "balanced."
As chair of the event, Espinosa played a vital role in defusing a conflict over the future of the Kyoto Protocol that had threatened to wreck the talks up until the final hours of negotiations.
Japan has long objected to the fact that Kyoto does nothing to restrain the emissions of China and the United States, the world's top two polluters.
In Cancun, Japan declared that it would not commit to a second period of Kyoto after the first period expires in 2012, and was eventually joined in this stance by Russia and Canada.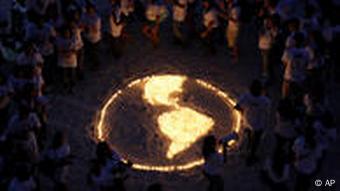 Environmentalists have been mostly positive about the climate talks
This was unacceptable for developing countries, especially China.
For them, Kyoto, the only legally binding agreement to date to limit greenhouse gas emissions, is a milestone for recognizing the different responsibilities of rich and poor countries in responding to climate change.
The conference's final text overcame the stand-off by deferring a decision on Kyoto's future to next year.
The text suggests that there should be no "gap" between Kyoto's first and second periods, but it also leaves the door open for Japan to walk away from the protocol if it wishes.
Forestry deal
Forestry groups gave their qualified approval of Cancun's decision on a scheme known as REDD, or Reducing Emissions from Deforestation and Degradation.
"After three years of hard negotiations we have a basis for combating deforestation integrated in an agreement on climate which marks an important step," said Rosalind Reeve, from Global Witness, an organization focused on resource exploitation.
REDD seeks to reward developing countries for maintaining their forests instead of clearing them for other economic pursuits.
Green groups cautiously optimistic
Environmentalists have also been mostly positive of the compromise. Tim Gore of the anti-poverty group, Oxfam, welcomed the Green Climate Fund and said the draft accord "breathes new life" into the UN-sponsored climate talks.
Still, the deal is less the goal of establishing legally binding emissions cuts, which many countries had set ahead of last year's summit in Copenhagen.
"The outcome of Cancun climate talks is weak and ineffective but at least a small and fragile lifeline," Friends of the Earth UK said in an online statement.
Author: Nathan Witkop, in Cancun; Gregg Benzow, Joanna Impey (dpa, AFP, Reuters)
Editor: Ben Knight