Police in the German capital, Berlin, have arrested three people suspected of taking part in the theft of priceless treasures from a museum in the eastern city of Dresden last year, prosecutors said on Tuesday.
Thieves broke into Dresden's Grünes Gewölbe, known as the Green Vault in English, on November 25, 2019, stealing three priceless sets of 18th-century jewelry within minutes. They then fled in a car that they later torched.
The three people arrested were said to be German citizens. Prosecutors indicated they were confident of the suspects' involvement, saying they were "strongly" suspected. They belong to "Berlin clan network," according to authorities. Other high-profile robberies in past years have involved similar clan members.
Reporting from Dresden, DW's Nina Haase said there was "[n]o sign of jewels" after the arrests.
The arrests came during a large-scale police raid of 18 properties, garages and vehicles, with a focus on the Berlin district of Neukölln. the prosecutors said. More than 1,600 police officers from across Germany were involved in the raid. Police said the operation could cause disruption of traffic in the entire city area.
An international manhunt is still underway for two other suspects, identified as 21-year-old male twins from the clan.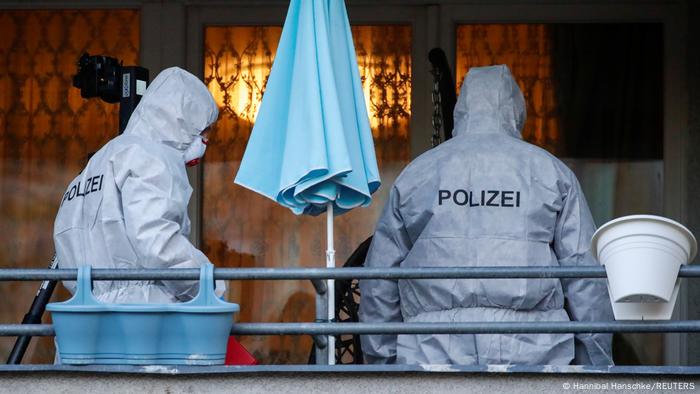 Police in Berlin arrested three suspects in the art heist during a morning raid on November 17
Stealing valuable items in just minutes
Security camera footage released by Dresden police after the 2019 heist shows two suspects entering the room, waving their flashlights as they step across the black-and-white-tiled floor. They then shatter a glass display case with an ax before taking three sets of jewelry. The theft was done quickly; by the time police arrived on the scene, five minutes after the alarm had been triggered by security personnel, the thieves had fled.
The suspects would have had about one minute after destroying the case to take all they could, Dirk Syndram, director of the Green Vault, said in a press conference after the crime nearly a year ago.
Initial media reports in Germany suggested the value of the stolen items could be in the hundreds of millions of euros, yet authorities refrained from putting a figure on the stolen goods, which have incalculable historical value.
"There is nowhere, in any other collection in Europe, jewels or jewel sets that have been preserved in this form and quality and quantity as these royal sets," Syndram said after the heist.
According to images released by authorities, the stolen pieces included bejeweled items like buttons and cuff links and a diamond-encrusted sword, as well as a set of jewelry that belonged to a queen of Saxony, Amalie Auguste, who ruled in the 19th century. Another stolen item was the famous 49-carat Dresden White Diamond.
Immediately after the crime occurred, a 20-person team code-named "Epaulette" — named after an ornamented shoulder piece, one of the items stolen in the heist — began to work on solving it. Now it appears their work has paid off.
Prestigious collection
The museum, situated in Dresden Castle, houses one of Europe's biggest treasure collections. It was founded between 1723 and 1729 by Augustus the Strong to publicly display his collection of treasures, making it one of the world's oldest museums.
As one of the city's most popular tourist attractions, the museum has some 3,000 pieces on display. It was damaged during World War II, and at the end of the war the collection was taken to the Soviet Union and not returned to Dresden until 1958.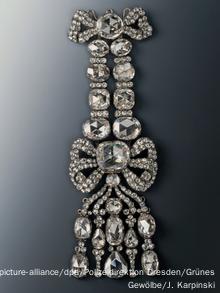 This 18th century diamond epaulet was among the items stolen
Art loss is always a risk
Düsseldorf professor Ulli Seegers, former head of the German branch of the Art Loss Register, which collects worldwide reports on missing art, whether through theft, robbery, or confiscation, told DW in a 2019 interview that museums always run the risk of losing parts of their collection.
"One has to weigh up quite carefully what the public interest is and how one can protect these treasures of irretrievable, and above all, cultural value as much as possible." Compromises are necessary, she said, but ultimately, "Wherever you let people in and allow the public to participate, there is always a risk."
The well-executed Dresden heist drew comparisons to the similarly ambitious robbery of a 100-kilogram (220 pound) gold coin called the "Big Maple Leaf," which was taken from the Bode museum in Berlin in 2017. It was valued at roughly €3.8 million ($4.4 million). The thieves, who belonged to the criminal clan Remmo clan in Berlin and were later arrested, used a wheelbarrow and a getaway car. It was an inside job: A freshly hired security guard was found to be in on the theft.
Our correspondent Nina Haase said one of the suspects arrested for the Dresden robbery "was convicted in connection with 2017 #Bode museum heist (gold coin)."
"When I asked about why he was roaming free and not in prison, [the public prosecutor in] Dresden tells me: 'ask Berlin public prosecution...'" she posted on Twitter. "Not good."
Authorities investigating the Dresden heist also questioned the museum's security personnel in March, suspecting similar inside access.
"In recent years we have observed an increasing tendency for internationally networked gangs to concentrate on objects that have a high material value," Seegers said, mentioning the Bode museum heist. "The same now applies to this jewelry, where there is a real fear that the gangsters will destroy this unique cultural treasure and dismantle it into individual parts."
Three men received jail time for stealing the "Big Maple Leaf." Authorities said they suspected the treasure was cut up into smaller pieces.

(dpa, AFP)