This was supposed to be the day the Germany team finally arrived at the tournament, sweeping South Korea aside on their way to the knockouts. Most Germany fans in Kazan retained that ingrained sense of confidence that has come with supporting this side in recent years. This team can't lose. It doesn't lose.
But what was once whispered quietly will now be making headlines around the world. This Germany team is not only very beatable, but also not much of a team.
"Perhaps we believed that we would turn things around after the friendlies. But that wasn't the case," Joachim Löw said afterwards. Thomas Müller said something similar in Sochi ahead of the Sweden game. After exiting the competition, Hummels told German broadcaster ZDF that the Germany team probably hadn't played a good game since the fall of 2017. Between the lines it's clear that this team thought they would just pick up where they left off and that would be enough.
Inquest required
The longer the game went on, the clearer that became for everyone watching. Slow, over-contemplative and still error-prone, Germany never shook off the concerns that have been hanging around since before this tournament even started. What began in Moscow against Mexico and stuck around in Sochi against Sweden peaked in Kazan against Korea. Three poor performances aren't enough to get you out of the group, and the causes of all this must be thoroughly examined.
Joachim Löw will certainly take some of that blame. Like his team, he appeared to believe that what once worked would work again. His game management was questionable, the matchplan was noticeable by its absence, and his rotation policy was an ineffective surprise. In this game, as in this tournament, the team he picked didn't function as one.
Selection choices will be questioned, none more so than the omission of Leroy Sane, but Germany's issues run far deeper than the absence of the winger's talents.
Pressure and expectation will have played their part — history shows that coming into a tournament as defending champions is a completely different beast to playing as one of the quiet favorites. Poor pre-tournament form, question marks over the true unity inside the team, and political distractions also contributed.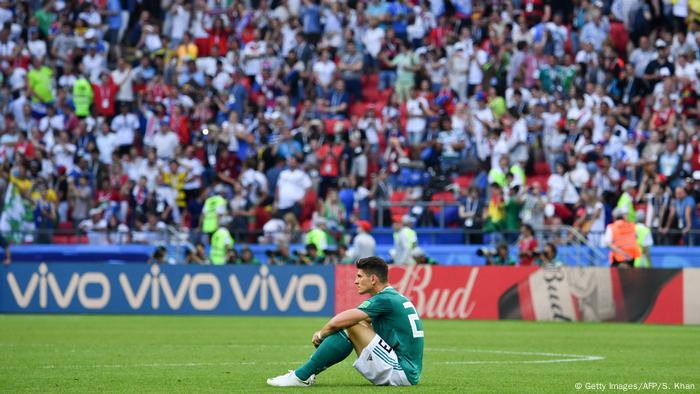 Mario Gomez contemplates the exit
Complacency the issue
It will be hard to deny that a sense of complacency was the central cause, though. If senior players publicly acknowledged that, then why was more not done? The best teams in the world take responsibility for their own matchplan and can adapt. Germany acknowledged that their senior players needed to lead this charge after the Mexico defeat. No response followed. It appears that this team was never prepared for this eventuality.
When the final whistle blew, Toni Kroos stood alone near the center of the field where the South Korea team were celebrating together. The Real Madrid midfielder was the personification of Germany's tournament. From scrappy, to sloppy, to savior, the midfield maestro was out of solutions in Kazan.
For South Korea, it was one of the greatest days in their football history. They were out, but they had toppled the defending world champions. They had been everything Germany were trying to be. Like Iceland against England at the European Championships two years ago, an underdog had shown a football giant how to be a team. The worst part for Germany is that they really handed defeat to themselves.