For fans of Stephen King's 1983 novel "Pet Sematary," the idea might well be the stuff of nightmares, but for millions of animal lovers around the world, the thought of finding their final resting place next to their most beloved pets is enough to take the edge off the inevitable end that comes to us all.
"Together forever" reads one example memorial stone at a cemetery that opened Tuesday in the town of Braubach, near Koblenz in western Germany. An engraved human handprint next to a canine paw print preserves the memory of a man and his best friend. A second, similar cemetery opened in nearby Essen just a day later.
German Cemetery Association head Judith Könsgen expects demand for such plots to be high. The GCA took the lead on the Our Haven project as people increasingly expressed the desire to be laid to rest with their pets.
With some 28 million pets recorded in Germany in 2013 - placing the nation of animal lovers third only to Russia and Italy within Europe - Könsgen's confidence shouldn't be knocked.
"The role of pets in society has changed," Könsgen said. "Nowadays they're more like partners than animals."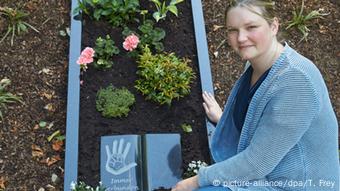 Judith Könsgen, head of the German Cemetery Association
With prices running between 1,300 and 1,800 euros ($1,150-1,600), pet lovers also have the opportunity to increase the size of their plots, ensuring that no family member, two- or four-legged, is left out of the urn collection.
Although the ashes of pet owners and their animals will now have the chance to sit side by side, cremations are still legally required to be carried out separately.
Falling birthrate
Kathrin Fichtel, of the Bremen-based Research Group for Pets in Society, believes that changes in society over the past 50 years are responsible for the increased importance of animals in Germany.
"The family structure from years gone by, with the mother, father, children and grandparents under one roof, is rarely seen today," Fichtel told DW. "There are more single-person households than ever before, so animals become a real anchor for people living on their own, both emotionally as well as providing structure to the day."
A study published last month suggested that Germany now has the lowest birthrate in the world. As that number continues to plummet, cuddly critters look set to become an even more integral part of the family.
"For many people, in some respects, an animal is easier to integrate than a child, and people who have a pet still have the feeling of a family and have someone to look after," Fichtel said.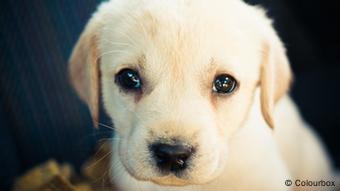 Germany is home to 28 million pets - the third largest number in Europe
"It's been scientifically proven that animals help with relaxation," Fichtel said. "When you stroke a dog, for example, a so-called cuddle hormone known as oxytocin increases and the stress hormone cortisol is reduced."
It comes as no surprise to Fichtel, then, that, in death, pet owners would want to stay close to the animals who had been such an important part of their lives.
Praise from pet lovers
The people-pet cemeteries, which use the slogan "We stay together, even after death," have been well-received by social media's pet corner.
Facebook user Dagmar Hoffmann posted: "I think this is super! I already have two urns from dead animals at home and I've always wished that we could stay together!"
Another, Ulrike Huber-Gäng wrote: "Great idea! There are many people who are closer to their animal than humans. My golden retriever's urn has stood in my living room for four years."
The owner-and-pet cemeteries aren't the first grounds to cater to the individuals' highly specific burial needs. Since 2012, supporters of Schalke 04 have had the opportunity to be laid to rest in Gelsenkirchen, around an emblem of the Bundesliga team created solely of blue and white flowers.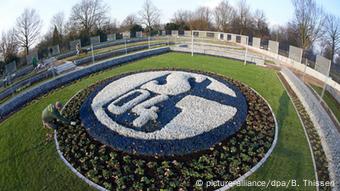 Since 2012, Schalke 04 fans have been able to be buried in a cemetery dedicated to the Bundesliga football team
Religious critique
Despite their popular support, the new cemeteries have been met with criticism from churches.
A spokesman for the Evangelical Church in Hessen and Nassau said the joint cemeteries crossed the line and had "profound theological problems."
"A funeral is a religious act tailored to people who have a religious consciousness," said Joachim Metzner, a pastor and the director of a funeral center in the Diocese of Limburg, western Germany. "The Catholic Church has no animal funerals."
Metzner added: "Animals are regarded as creatures of God, but they must be distinguished from people. This differentiation should also be expressed in funeral practice."
With the first plots for urn burials expected to be bought in the coming weeks, however, the German Cemetery Association is already looking to expand the "Haven" project nationwide.