German Chancellor Angela Merkel on Saturday paid tribute to Colonel Claus von Stauffenberg and other German military figures who tried to assassinate Adolf Hitler 75 years ago.
"Following their conscience, they proved themselves to be true patriots," Merkel said at a military ceremony in Berlin. "They urge us to be vigilant and to confront racism and nationalism in all its facets," she added.
Stauffenberg and other senior officers such as Henning von Tresckow and Erwin von Witzleben planned to kill Hitler in his "Wolf's Lair" headquarters in modern day Poland and then declare peace with the Western allies.
Read more: Remembering the German Resistance
But a bomb that Stauffenberg placed in a suitcase near to the Nazi dictator failed to kill him and the attempt to seize power, dubbed Operation Valkyrie, failed. The colonel and his coconspirators were tracked down and executed in the days and weeks that followed.
After her speech, Merkel laid a wreath at the site where Stauffenberg and several others involved in the plot were shot.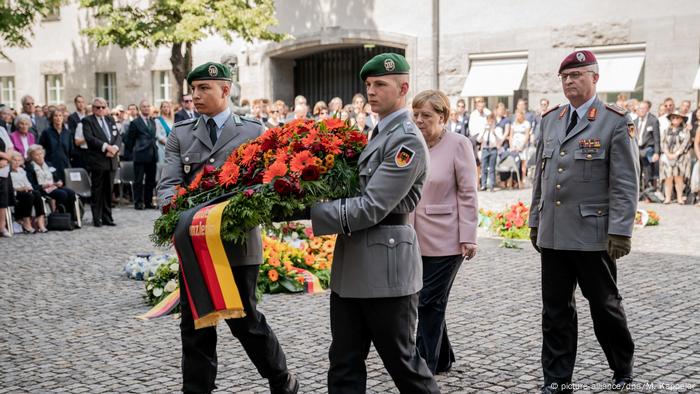 Stauffenberg was shot at Bendlerblock in Berlin a day after the assassination attempt
Germany's ambivalence
Stauffenberg's legacy in postwar Germany has been mixed. Some view him as a hero of the anti-Hitler resistance movement and others see him as an opportunist who only turned against the Nazi dictator when Germany's defeat became certain.
Read more: German army shaped by anti-Nazi legacy
Historian Wolfgang Benz told the Augsburger Allgemeine newspaper that it was important for Germans to remember the broader resistance movement and not just the military officers involved in the July 20 plot.
"Conservatives have always focused on the military resistance, but it came very late [in the war]," he said.
amp/jlw (AFP, KNA, epd)
Every evening, DW sends out a selection of the day's news and features. Sign up here.