Around 200 to 300 people gathered in Leipzig's Connewitz district on Friday for the second night of violent protests, decrying the eviction of a squatter house earlier this week.
Protesters threw stones and bricks at a police station and arriving officers, set garbage cans on fire and laid burning barricades in the street, according to police.
Two police cars collided — an incident that was noisily cheered by demonstrators.
Read more: Germany and France: Cities shocked as youths riot and attack police
"Several stones were thrown at our task forces and vehicles," a police spokeswoman said. Eight police officers were injured, while six police vehicles were damaged.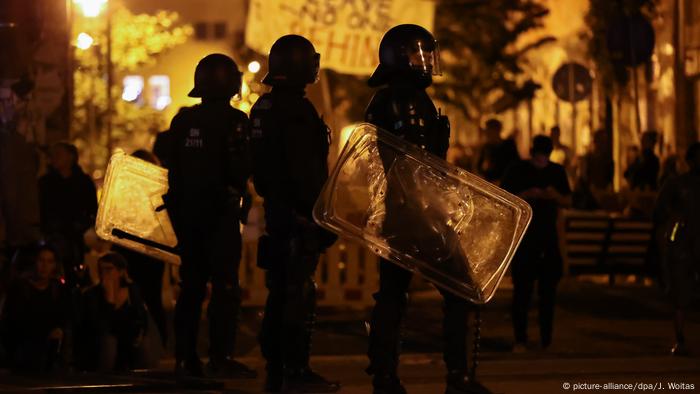 The unscheduled protest prompted the authorities to deploy riot police
Riot police and a helicopter were deployed to the scene. The officers used tear gas against the demonstrators, who were mostly hooded and dressed in black.
Read more: Extremists could hijack coronavirus rallies in Germany, warns BfV head
After the protest, which lasted for around 45 minutes, some residents helped to remove the barricades and to clean burning garbage cans from the streets.
More protests planned
During Thursday night's demonstration of around 100 people, police reported seeing similar disruption.
That night saw 22 arrests, with protesters charged with breach of the peace, attempted bodily harm, dangerous interference in air traffic and property damage.
Read more: 39 people arrested in Frankfurt after outdoor party turns into riot
Protesters gathered on both nights over the eviction of a squatter house on Wednesday, after the owner filed a criminal complaint for alleged trespassing.
Further demonstrations are planned for Saturday evening.
lc/dj (dpa, AFP)