Germany is known around the world for its automotive and mechanical engineering industries, whose success is reflected in annual export statistics.
What isn't so widely known, however, is that Germany also holds a leading position in the medical technology industry.
According to Oliver Koppel from the Cologne Institute for Economic Research, the worldwide success of the German medical industry is proven by the increasing numbers of patent applications submitted.
"Over the last 15 years, the number has almost doubled," Koppel said.
Across the wide range of products which German companies offer - from splints and electro-medical equipment to implants and artificial hip joints – the sector generates an annual turnover of around 20 billion euros.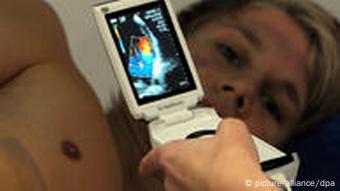 Germany manufactures and exports a vast range of medical products
"Sixty percent of the total turnover, around 12 million euros, is earned abroad," said Koppel, adding that Germany owes its successful in the industry, in part, to an intensive research strategy.
Investment in research and development accounts for around 8 percent of medical technology sales. That is double the average investment in other industrial sectors.
Competition from Asia
Increasingly, however, Germany is facing stronger competition from abroad. The medical industry in Asia - particularly in South Korea and China - has boomed in recent years.
The number patent applications from China are an indicator of this. "Many people still think of China as a county where patent protection is disregarded. But this isn't the case anymore," Koppel told Deutsche Welle.
Since China became a member of the World Trade Organization in 2001, intellectual property protection has improved significantly.
"Since then, in terms of patent applications and developments, China has become a prime market for medical technology," said Koppel. Dr Oliver Koppel believes Germany's commitment to research sets it apart
"This is something which is still greatly underestimated," he added.
Nevertheless the German medical industry still holds many advantages that make its products attractive to global markets.
Koppel believes that German technology is particularly sought after thanks to the large number of clusters, agencies which combine research and industry expertise, which are located around the country.
"The medical technology cluster in Hamburg, for example, is excelling," says Koppel. "This strong combination of business and science is still the unique selling point for Germany in this industry."
Europe's largest market
Germany is also the largest market in Europe for laboratory technology. In this field, the German company Waldner regards itself as number one in Europe and number two worldwide; second only to the publicly traded US company Thermo Fisher Scientific.


The Waldner group produces premium laboratory equipment
The Waldner group is a holding company with 12 subsidiaries. Laboratory technology and equipment are a major part of the business. Last year alone the company had a turnover of 130 million euros.
"All the major pharmaceutical companies in the world are our customers," said managing director Helmut Hirner.
Along with GlaxoSmithKline, Pfizer, Böhringer, Roche and BASF, large research institutes such as Helmholtz, Fraunhofer, and numerous universities are among the its customers.

Vital exports
The Waldner group places a firm emphasis on the export market. In 2010, half of the company's sales were generated abroad.
But Waldner's products are not only sold in the major American laboratory market but also in the Indian market. In fact, the Indian market invests more in premium laboratory equipment than the Chinese market, Hirner told Deutsche Welle.
"We want to supply not just India, but the whole of Asia with our products," said Hirner. The company opened an office in Dubai in early May to build its share in the Arab market , which is expected to undergo strong growth over the next 10 years.
Indeed, worldwide the healthcare market is showing no signs of decline. As people continue to live longer in developed countries, they are spending an increasing amount on staying healthy. As a result, the market looks set to grow and grow.
Author: Monika Lohmüller / ccp
Editor: Sam Edmonds