Germany will be unable to cope long-term with the rate of refugees entering the country, where the expected intake this year is equivalent to 1 percent of its present total population, Interior Minister Thomas de Maiziere warned Thursday.
De Maiziere, speaking a day after having announced that a record 800,000 people were predicted to arrive and apply for asylum this year, said: "This year we have to cope, and we will."
"But long-term, 800,000 per year is too much for a country the size of Germany."
De Maiziere, a member of the Christian Democratic Union party (CDU), said during a breakfast show from broadcaster ZDF that Germany is now taking 40 per cent of all refugees in the European Union.
Germany is putting pressure on other EU nations to accept more asylum seekers, after several countries rejected an attempt to impose a quota system to allocate refugees, leading to the scheme being made voluntary instead.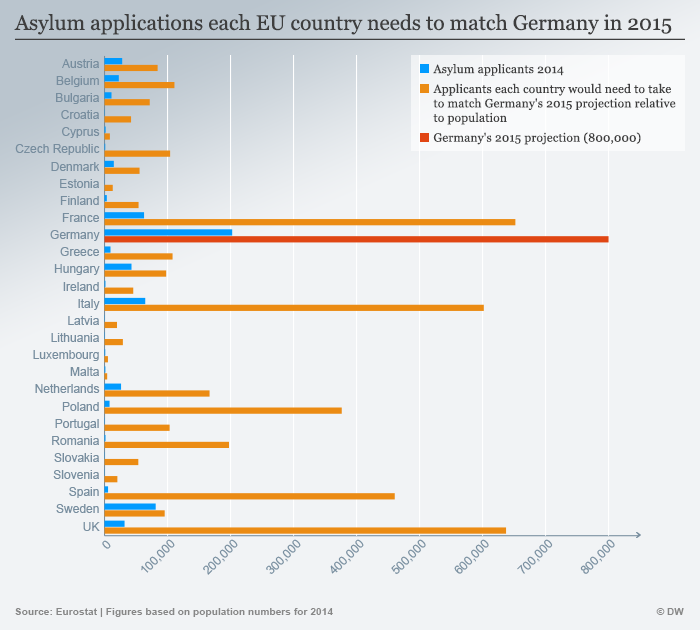 EU needs 'another asylum system that works'
De Maiziere has questioned the EU's asylum rules, saying it needs "another system."
He indirectly threatened to reinstate border controls in Germany if other EU states failed to change their behavior.
Although he was in favor of open borders and said he remains "a committed European," he emphasized: ""hen other European states don't adhere to rules and regulations, then we need another system that works."
"Open borders only work when the system, within which there are open borders, also works in a well-balanced way. And that is not the case."
De Maiziere was reportedly referring to the Dublin regulations, under which refugees must make their asylum application in the first EU country they arrive in. That EU country is then responsible for the asylum procedure.
SPD calls for a 'new refugee arrangement'
There were also calls from the Social Democratic Party (SPD), junior partners in Angela Merkel's coalition government, to reconsider the Dublin regulations.
Thomas Oppermann, parliamentary leader of the SPD, told the "Rheinischen Post" newspaper on Thursday that Europe needed "a new refugee arrangement," adding that the current Dublin agreement had "collapsed."
Tensions have been rising in Germany over immigration, with the country struggling to find enough space to accommodate the new arrivals.
Ethnic tension between refugees in overcrowded hostels spilled over into violence Wednesday evening in the eastern city of Suhl, located in the state of Thuringia, after around 100 asylum seekers were involved in a brawl at a refugee shelter.
The riot was sparked when an Afghan tore pages out of the Koran, angering other residents at the shelter, a police spokesman said.
The Suhl refugee shelter is supposed to hold 1,200 people, but has had to take in 1,800.
mh/kms (AFP, dpa)