While Germany has a reputation for fast cars and open roads, thousands of drivers face ever-increasing delays and frustration due to traffic jams. A report from the German automobile club ADAC on Tuesday revealed that:
Traffic jams increased by 4 percent in 2017 or by 723,000 more than 2016
The length of the jams in 2017 totalled 1,448,000 kilometers (899,745 miles), a rise of 5 percent
Road users were stuck in traffic for a total of 457,000 hours, a rise of 9 percent
The worst months for traffic congestion in 2017 were May and September
Thursdays were the worst day of the week with an average of 5,365 kilometers of jams.
The day last year which stood out for no-go travel was the Wednesday ahead of the Ascension holiday weekend. On May 24 traffic jams of 10,000 kilometers were reported, according to the ADAC. Weekends, on the other hand, offered the clearest roads with just 1,583 kilometers of blockages.
The reasons for the delays indicated by ADAC were an increase of 1.3 percent in truck mileage and road works. Of the 2,200 kilometers of motorway which should have been improved since 2015, only half of the works have so far been carried out.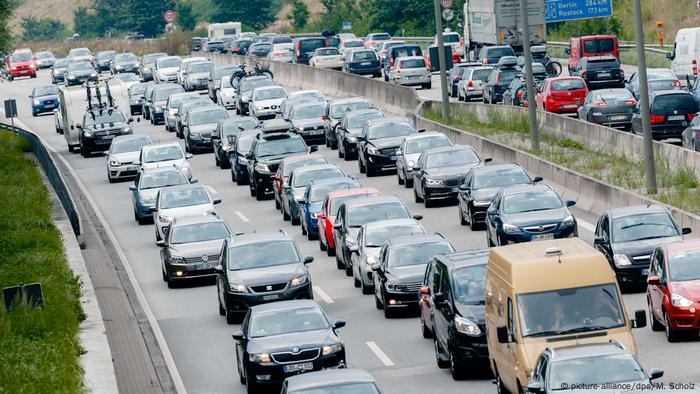 The A1 near Hamburg in July
Germany has 644,480 kilometers of roads, with 12,917 of highways — many of them just two lanes.
There have been a number of suggestions mooted in state and federal chambers to solve the traffic problems and as of 2019, drivers in Germany will pay a toll on all federal highways.
A focus of blockage
As in previous years, three areas accounted for two-thirds of all the traffic jams: North Rhine-Westphalia which suffered even more jams in 2017 than the previous year and accounted for 35 percent of all Germany's jams. Bavaria improved its traffic flow but still booked 18 percent of all traffic blocks and Baden-Württemberg, which accounted for 11 percent of the country's jams.
The A3 Passau to Linz stretch kept its record for delays, largely due to border controls of cars coming in from Austria.
Other traffic block spots were the A3 Oberhausen to Cologne and the A8 between Stuttgart and Karlsruhe stretch.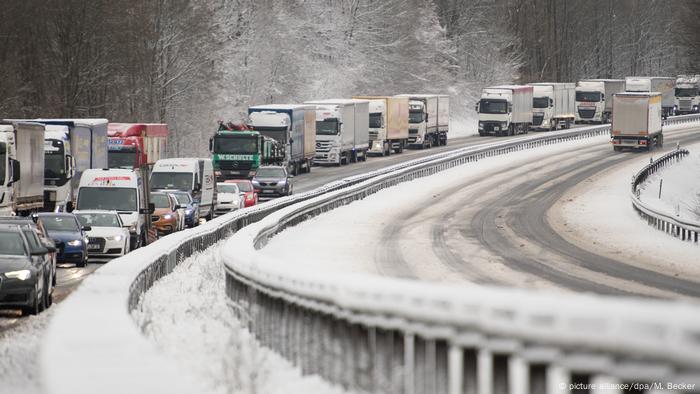 The A4 near Gummersbach in January 2017
Summer and winter flows
The longest traffic jams formed in June (147,306 kilometers) and in September (143,485 kilometers).
In the holiday month of August, the length of jams fell to 110,572 kilometers.
The best months for blockage-free travel were January, February and December as many construction sites were either finished or paused for the winter weather.
For the world's worst evening rush hour traffic, GPS manufacturer TomTom reported last year that Bangkok, Thailand, Mexico City and Bucharest, Romania were top of their list.
jm/rt (dpa with ADAC)