Alexander Dobrindt believes Germany's highways are ready for longer trucks - what Germans have dubbed "gigaliners" - and may be driven on highways as of now. In a statement released in December, the conservative Transport Minister announced that the results of a five-year test phase were in, and that the "long-truck" was "practical."
"It is safe, saves fuel and will lead neither to the shifting of traffic to the road, nor to a heavier burden on our infrastructure," Dobrindt said in a statement. "Two long-trucks replace three conventional trucks. And fewer vehicles mean fewer emissions."
But others in the German government begged to differ, and, unusually for inter-ministry rows, were prepared to go public with their rancor. "The effects of the long-truck, its environmental impact, as well as effects on rail transport have not yet been sufficiently examined," Jochen Flasbarth, state secretary at the Environment Ministry, told the DPA news agency. "The Transport Ministry is creating precedents that aren't compatible with EU law."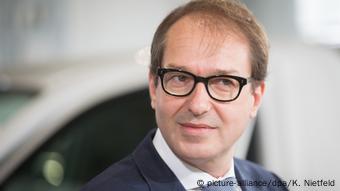 Dobrindt greenlit the gigaliners without proper consultation, said state secretary Jochen Flasbarth
Longer, but more efficient
Dobrindt's decision means that trucks of 25.25 meters (82.84 feet) - 6.5 meters longer than conventional trucks - can travel on Germany's major road network with immediate effect. Regulations have been lifted for three of the five types of gigaliner, while the test phases for the other two have been extended.
The Federal Highway Research Institute (BASt), which ran the tests, came to the conclusion that allowing mega-trucks would mean up to 25-percent fuel savings, and yet would not encourage logistics companies to favor road over rail.
"Of course the CO2 emissions would go down if you only needed two trips instead of three," said Jens Hilgenberg, transport specialist at the environmental campaign group BUND. "But because of the cost advantage that this creates, then a lot of goods will be shifted from the rail back onto the roads."
Hilgenberg also said long-trucks were bound to cause infrastructure headaches. "You'd certainly need to extend one or two highway on-ramps," he told DW. "Also no one seems to have considered that highways are sometimes closed. And knowing the logistics industry, they're not going to wait - of course they're going to go off and drive through villages, even if they're not allowed to. It will be unavoidable."
The Pro-Rail Alliance, a collection of NGOs and companies aimed at promoting railway transport, rejected the ministry's plan outright, claiming that the introduction of long-trucks would lead to "7,000 more truck trips per day" across the country. The Pro-Rail Alliance argued that the example of Sweden, where long-trucks are already allowed, showed that railway companies would suffer, and the organization has now threatened to take legal action against Dobrindt for his "unilateral" decision.
'Nonsense'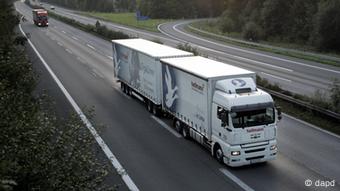 Gigaliners are restricted to Germany's highways, but what if the highway is closed?
In an emailed statement to DW, the Transport Ministry responded to Flasbarth's accusations by underlining that there had been five years of tests, which had been "scientifically documented and transparently published," and that the Environment Ministry had been "included" in the decision to allow them onto the roads.
"The Environment Ministry basically agreed with the special directive," said the ministry, before adding that the only objection it had voiced was over the length of time that one specific type of gigaliner could be licensed.
Kirsten Lühmann, transport policy spokeswoman for the center-left Social Democratic Party (SPD), described the objections to gigaliners listed by BUND and the Pro-Rail Alliance as "nonsense." Not only was she convinced that they would reduce overall CO2 emissions, all the BASt field tests showed that they would not put railway operators out of business.
"They are totally different cargos," she told DW. "You need a long-truck when you want to transport large-volume, lightweight goods in small quantities - for example washing machines. The railway companies say: 'Listen, we can only transport goods economically if we can fill a whole train - 50 cars stuffed full of washing machines.' These then have to be transported to distribution centers, where they would still have to be loaded onto trucks. And the businesses say: that's just not worth it."
But Lühmann acknowledged that the Transport Ministry had not been fully open about the problems that long-trucks did cause in the tests.
The BASt report "clearly showed there were problems on traffic circles and merging," she said. "If you want to merge a 25.25-meter vehicle into a road, you need a gap in both directions - now imagine it's a main road and it's rush hour in the morning. You'll be standing there 10 minutes, 15 minutes, and everyone will be backing up behind you as well." She added that there were also infrastructure problems still to settle - especially with traffic circles and the lack of rest stops with large enough parking spaces. But fundamentally she was satisfied that long-trucks were ready to roll on Germany's roads.