Erich Pipa, the elected head of Main-Kinzig district, a 405,000-population region just east of Frankfurt, told German public ZDF television that he would "not give way to brown terror" and would continue with his schedule.
"I have not canceled a single appointment," Pipa said, demanding that the "anonymous filthy scribblers" of a letter "show their faces," adding that a "small Nazi nest" in the district must not be allowed to gain the upper hand.
"Ninety-nine-point-nine percent share my opinion that we must accommodate the people (refugees)," Pipa said, adding that "unbelievably many residents had offered help," despite worries about the size of task.
Police spokesman Christoph Bosecker said authorities would "ensure" Pipa's security on Sunday when he takes part at an annual sports-promotion festival, when the cycling public is given free reign on county roads closed to motor vehicles.
Far-right intimidation
Pipa's stand follows the resignation in March of the mayor of Tröglitz. Markus Nierth resigned his post in the small town in eastern state of Saxony-Anhalt after it became the scene in April of one in a series of arson attacks on intended or occupied asylum-seeker accommodations.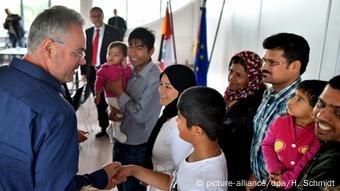 Ex-mayor Nierth welcomes refugees to Tröglitz
In July, an illegal firecracker was used to set ablaze a local politician Michael Richter's car in Freital, the scene of xenophobic unrest near Dresden in Saxony state.
'Opportune' moment
Pipa on Friday made public the written threat sent by a group calling itself Home Protection Kinzig Valley. It told the Social Democrat party (SPD) politician that Sunday was an "opportune" moment to "sweep you out of the way."
The letter, containing racist language, denigrated Pipa's announcement in July that Main-Kinzig would take in more refugees.
Another page of the letter referred specifically to one hostel being enlarged for 61 additional asylum seekers in the 16,000-population town of Schlüchtern.
Pipa, 67, said citizens, state officials, political parties, trade unions, churches and social organizations "must stand together" as Germany exhibited a "welcoming culture" for thousands of newly arrived asylum seekers.
Open to refugees, preparations inadequate
Main-Kinzig - the most densely populated of the state of Hesse 21 administrative districts - is accommodating 2,900 refugees and estimates it will receive 5,000 by late December under Germany's system of allocating refugees across its 16 states.
Pipa told ZDF that his district council had dipped into its own reserves and used 4 million euros ($4.5 million) to expand accommodation because the federal government and Hesse state, had left municipalities "in the lurch" despite their urgings for additional funding since 2014.
"It was already fully self-evident that so many people would come to us," Pipa said, referring to arrivals of refugees in Greece and Italy on the EU's outer border in recent years.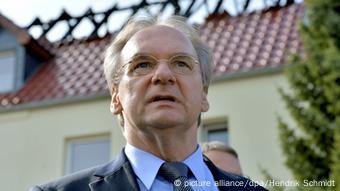 Premier Haseloff wants the far-right NPD party banned
In a special broadcast involving three state premiers on MDR public television last week, the premier of Saxony-Anhalt, Reiner Hasselof, demanded that a long-running federal bid before Germany's Constitutional Court to ban the far-right National Party (NPD) be pursued.
A ban would deny the NPD taxpayer-sourced funding normally granted to political parties under German electoral law, he said.
Two-thirds favor refugees' entry
ZDF published survey results on Friday, showing that 66 percent of Germans endorsed last week's entry decision by Austrian and German governments to allow mostly Syrian refugees, then stuck in Hungary, to travel on to Germany.
Twenty-nine percent thought it was the wrong decision and 5 percent were undecided.
Asked if those who arrived should be allow to work, 12 percent said no while 85 percent answered yes.
Comparison with 2006
Addressing volunteer social workers in the grounds of his official residence in Berlin on Saturday, Federal President Joachim Gauck said the current readiness to help refugees was reminiscent of 2006, when residents in Germany, including those with foreign origins, enthusiastically hosted soccer's world cup series.
"Out of concern, we're experiencing ourselves as capable human beings, who are tackling a great challenge," Gauck said. "That will flow into our collective memory."
ipj/sms (dpa, ZDF, AFP)