Speaking to German magazine "Der Spiegel," Kauder said: "The time for roundtables is over. I've run out of patience." He said if companies like Facebook, Google and Twitter failed to remove offensive comments within a week of them being posted, they should be penalized with a 50,000 euro ($54,490) fine.
Social media websites needed to rethink their strategy, he said. "Otherwise, I have another suggestion. Cigarette packs always carry a warning that smoking can be dangerous. Why don't we ask these [social network] providers to carry a warning on their websites, saying: 'Anyone who communicates here must expect insulting remarks,'" Kauder said.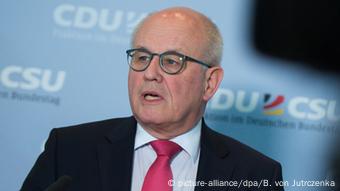 CDU politician Volker Kauder
Kauder also insisted that the justice ministry should demand that the companies submit the IP addresses of people who posted hate messages on social networks.
Facebook, Google and Twitter pledged last year to examine and remove hate posts from their websites within 24 hours. However, many users still complain that their requests to remove such statements go unheard.
Justice Minister Heiko Maas
Kauder's threat follows a similar statement by Justice Minister Heiko Maas last week, who said that out of the cases reported to Twitter in Germany, only one percent were erased. For Facebook, the number of erased comments was about 46 percent.
"If the companies refuse to meet their responsibility, there will be consequences," he told the business daily Handelsblatt. Facebook, Twitter and Google would have to be more transparent about how they were dealing with hate posts, he said, arguing that they would have to prove themselves before a legal requirement was imposed.
"If criminal content is not swiftly deleted, then we need to consider how to make Facebook and Twitter liable… this Damocles sword hangs over them," he added.
Anti-migrant comments have witnessed a surge in social media after almost 900,000 migrants arrived in Germany last year. Most of these people were fleeing from conflict and poverty in the Middle East and Africa.
mg/jm (AFP, Reuters)