In a guest contribution to his local Saarbrücker Zeitung newspaper, German Justice Minister Heiko Maas approached the highly charged and multifaceted topic of bulking up staff and building a better infrastructure for German courts. The crux of his argument: What good does it do to increase police forces and improve crime investigation rates if there aren't enough legal and court personnel to effectively try and prosecute criminals?
Wave of retirements looms large
Personnel shortages have led to problematic conditions in Germany's administrative and regional courts. Procedures take too long; judges complain of being overworked. "The already very tense situation will intensify even further in the next ten to fifteen years because a huge retirement wave is looming before the German judiciary," says Jens Gnisa, chairman of the German Association of Judges (DRB). And he would know: Gnisa also serves as director of the Bielefeld district court.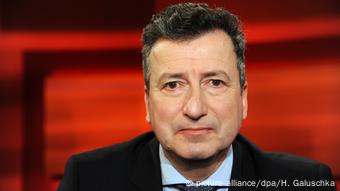 Gnisa says current shortfalls in the judicial system will only get worse as more judges retire
Read more: How does Germany choose its judges? Always the best pick?
As September's parliamentary elections approach, all parties are hurrying to promise more security to worried constituents. More police, more judges, more state. It is a refrain heard from all sides, including from the justice minister himself. Yet the German Association of Judges appears skeptical, perhaps for professional reasons. The group has therefore joined forces with the much louder federal Trade Union of the Police (GdP). Both organizations have now called for action: "The wave of retirements in the police and judicial sectors endangers the stability of the rule of law," their joint statement read.
System breakdown?
By the year 2030, around 40 percent of all lawyers will cycle out of the German labor force. In the former East German states, that figure climbs to 60 percent. Gnisa has calculated that the judiciary is set to lose about 10,000 judges and prosecutors. "If political powers do not do something about this, the rule of law could erode," says the lawyer. "It is particularly alarming that the courts have recently had to release defendants from pre-trial detention because criminal proceedings have lasted unacceptably long."
Police have now become part of the equation because they have often expressed their frustration at re-encountering recidivist criminals they had already nabbed.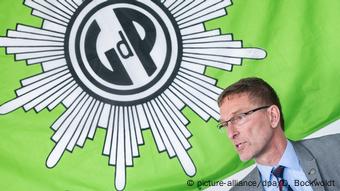 Oliver Malchow says that criminals are no longer scared of punishment
"Let's take the area of ​​everyday crime," says Oliver Malchow, who is the federal chairman of Germany's police union. Malchow says that frustration is increasing among police, especially in the case of repeat offenders or suspects. "Our colleagues have been complaining for years that suspects have to wait too long for sentencing. And many cases are also dropped."
Read more: German police unions: More money needed to defeat terror
Audacious exploits
Recently Malchow was at an event with store owners at Alexanderplatz, a commercial and traffic hub in central Berlin. "When theft occurs here, the police come and take down the perpetrator's personal details. And the thief just sits outside smoking a cigarette, because he knows, 'nothing will happen to me,'" Malchow tells DW, recounting many of the owners' experiences. Police complain that, from their viewpoint, "the chronological connection between misconduct and punishment is no longer a given."
The police association fully supports the calls for an increase in police forces. To combat the situation, Malchow says that 20,000 law enforcement officers must be hired by the end of the next legislative period (five years). "It is on the scale of about 4,000 people per year."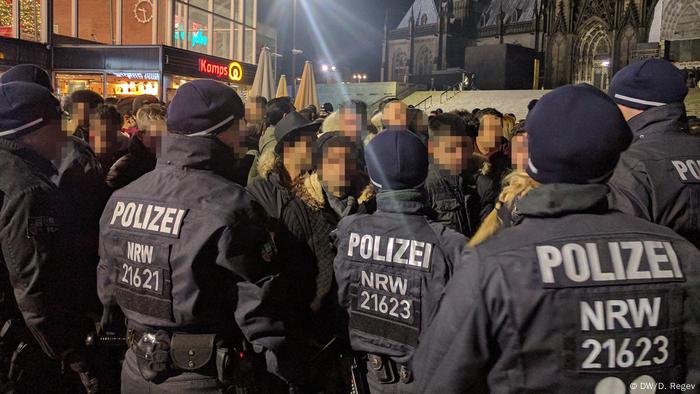 Though over a thousand police offices were deployed on New Year's Eve 2015-2016 in Cologne, it wasn't sufficient to prevent mass assaults
Crisis spurring action
Politicians' lip service is simply not enough, says the police union leader. Events such as the recent riots at the Hamburg G20 summitlend support his position. In the end, 23,100 officials were deployed - more than 6,400 from Hamburg and 16,700 from elsewhere - to handle the situation. For Malchow, it is proof of "how tense the personnel position is."
So will politicians only react in the face of crisis? "Now, before the Bundestag elections, all parties say that they want to do more for internal security, but the party chairpersons must then ensure that this is implemented at their constituency level," he underlines.
Public opinion appears to have done a U-turn following the mass sexual assaults that occurred on New Year's Eve 2015-2016 in central Cologne. "People thought: 'Police just can't help us at all anymore.' They founded vigilante groups, got gun licenses, and in many cases, elected parties that were not part of the party landscape before." Only then did politicians respond, Malchow reports. "This is disappointing, but now it is at least a reaction to it."