Judges must be "no more than the mouth that pronounces the words of the law, mere passive beings, incapable of moderating either its force or rigour," said the French enlightenment political philosopher Baron de Montesquieu (1689-1755). The initiator of the separation of powers assigned the third branch of government, the judiciary, a clearly defined role of servitude.
More than 250 years later, the reality is far different. Even in Germany, respected around the world for its adherence to the rule of law, the judiciary's independence has come under scrutiny in the last several years. Jurisprudence has been accused of being politics by other means.
Read more: Germany's Basic Law is a flexible yet stable constitution
The selection: Free choice or horse trade?
Germany's more than 20,000 judges are not "bound by directives." Germany's federal states - normally their respective justice ministries - choose judges. Federal judges are selected on a "best choice" principle, as set forth by the constitution. In practice, judge selection is as transparent as a black hole.
A judicial selection committee exists for Germany's top five federal courts (the Federal Court of Justice, Federal Social Court, Federal Administrative Court, Federal Fiscal Court and Federal Labor Court – but not the Constitutional Court – the highest in the land).
This body votes in secret and consists of 32 members: The 16 state justice ministers and 16 Bundestag appointees, who need not be parliamentarians, but should have legal expertise.
Read more: German judge Kabisch removed from Auschwitz trial for bias
Decisions are made by simple majority.
Germany's largest parties, currently Chancellor Angela Merkel's Christian Democrats (CDU), their Bavarian sister party CSU and the Social Democrats (SPD), have the most say.
The Bundestag's smaller parties play at best a smaller role. In the course of a year, the five top federal courts may see multiple judicial reappointments, which are generally decided upon in advance between the major parties.
The Left party and the Greens have long been against this policy. "Whoever is a bother or for whatever reason is not favored, does not get selected," said Renate Künast of the Green Party in 2014, when she was chair of the Bundestag's judicial committee.
Read more: AfD judge barred from ruling on 'political cases'
Ever more counterclaims
In 2015, a candidate put forward by the Greens sued when she twice failed to secure a position at the Federal Court of Justice, and a CDU ally won it instead. To add insult to injury, she was unsuccessful in the legal proceedings as well.
She claimed the process violated the "best choice" principle. It was another example the smaller political parties use to push for reforming judicial selection, which they claim lacks transparency.
Decisions are made based on candidate's files, without interviewing them.
The secrecy required following a vote is also dangerous, opponents say.
Judicial candidates who fail to secure their appointments are increasingly calling into question the selection committee's objectivity in its decision-making. "Certain people are undesired," a lawyer told German newsmagazine Der Spiegel in 2014 on condition of anonymity. "But are not told why they have been rejected."
Read more: Five-year neo-Nazi trial collapses as judge retires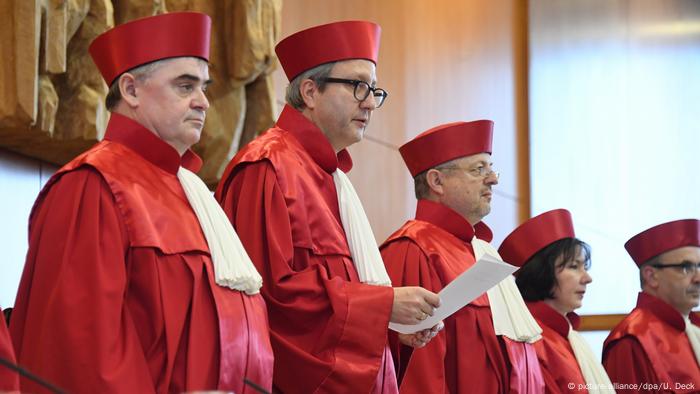 The Constitutional Court, based in Karlsruhe, is Germany's highest court
Constitutional court also under scrutiny
Germany's highest court, the Constitutional Court, is also vulnerable to public criticism. Judges for this court are chosen by a closed-door panel of 12 parliamentarians.
It is a method that has long been under fire, including by the current president of the court, Andreas Voßkuhle. "A not insignificant amount of study has shown that this method can quite rightly be described as unconstitutional," he wrote in an opinion piece.
Norbert Lammert (CDU), a lawyer and longtime president of the Bundestag, criticized how little "legitimacy" judges have for gaining a seat on the country's highest court, calling it "astounding" that the selection process has a lower bar than that for Germany's data privacy or armed forces commissioners.
Read more: Man who exposed Nazi judiciary honored in Berlin
Rarely criticized is the party-political control of judicial placement, which was implemented as a response to the abuse of the judiciary by the Nazis. However, it seems to have run its course.
The chair of the German Association of Judges, Jens Gnisa, suggested as much to DW when referring to the Polish government's attempt to reform its own judiciary. These would have "enabled the ruling nationalist party to deeply influence Poland's judiciary and direct courts according to its own wishes."