Dresden judge Jens Maier has been barred from presiding over the state court's press law and criminal libel cases after it emerged that he had given a speech declaring Germany's "guilt cult" about the Holocaust as over, and argued against the "creation of mixed peoples."
In a statement issued this week, the court said it had decided, with Maier's consent, that press law and criminal libel cases would be moved to another, newly-created chamber, in order to "avoid any doubt about the impartiality of the court," leaving him to cover road accident arbitration and "general civil law cases."
The court's statement was meant to draw a line under a string of controversies around Maier, though the immediate trigger was a speech he made on January 17 at an event in Dresden organized by the Alternative for Germany (AfD) - the far-right populist party he intends to represent in the Bundestag after this year's general election.
But, as the court statement also noted, the decision followed a number of cases in which plaintiffs or defendants had raised concerns about Maier's impartiality. Since press law and libel often involve "highly political questions," the court argued, the presidium had decided it would be best to simply remove those issues from his jurisdiction altogether.
The judge himself appears to have accepted the problem. In early January, Maier declared himself biased in a case in which an AfD state parliamentarian had sued an anti-fascist organization in Saxony. "With the concluded change in jurisdiction, such problems will be avoided in future," the court statement said.
Judicial doubts
Ralf Möbius, a Hannover-based lawyer who has written about Maier's case, was not satisfied with the court's solution. "You could say it was fair, because he himself is reported to have consented to it," he told DW. "But I don't think the right way to react to public criticism is to suddenly create a new chamber that is identical except for Maier. That's a sleight of hand."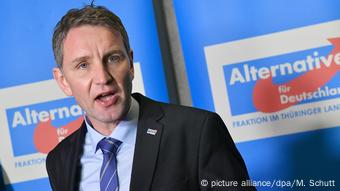 Björn Höcke is considered a member of the AfD's extreme nationalist wing
As Möbius points out, German law allows judges to be members of political parties, though he acknowledges that Maier's public vociferousness is unique. But that was no reason to simply shut him out of a whole category of law cases. "I think that's relatively spineless," said Möbius. "No sooner does a judge express an opinion that is rejected by the majority, and meets a devastating reaction in the press, the judge presidium gets cold feet and pulls a couple of personnel tricks."
He also had some legal doubts about the court's solution. For one thing, laws governing German courts only allow personnel changes to be made during the working year when judges are overburdened or under-burdened, or if a judge is unable to carry out his duties.
Not only that, the law has clear rules in cases of suspected bias, which decree that each one has to be assessed individually. Möbius said that though he understood the court's motivation, bypassing those rules might be "economic" - but it wasn't "legally clean."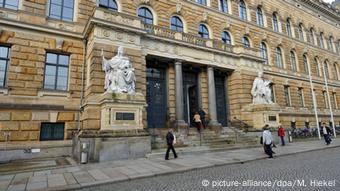 The Dresden court said it had to protect its impartiality
Under investigation
Maier's speech came at the same event at which prominent AfD politician Björn Höcke made his now notorious speech demanding a "180-degree turn" in Germany's tradition of remembering the Holocaust. In reaction, state prosecutors put both men under investigation on suspicion of hate speech and incitement, and the AfD briefly considered ejecting Höcke from the party.
The Dresden state court had already felt compelled to issue a statement the day after Maier's speech, distancing itself from what it called "Mr. Maier's private opinion, which does not reflect the opinion of the state court."
The court added that it would assess whether the judge's statements amounted to a violation of the "Mässigungsgebot" ("moderation requirement"), an article of the law that requires judges to "behave in such a way so as not to endanger the trust in their independence." In other words, German judges are required to appear politically impartial in public, even when not in court.
Maier's political views appear to have bedeviled his official duties before. In June 2016, he ruled against political scientist Steffen Kailitz for saying the far-right National Democratic Party (NPD) pursued "racially motivated crimes against the state," though following the academic's appeal he persuaded the NPD to withdraw its suit.