Jewish groups have reacted with anger and shock after a local leader of the right-wing populist party Alternative for Germany (AfD) attacked Germany's national Holocaust memorial and the country's devotion to teaching its citizens about Nazi genocide.
"It is deeply outrageous and completely unacceptable to describe the Berlin Holocaust Memorial as Björn Höcke did as a 'monument of shame,'" the president of the Central Council of Jews in Germany, Josef Schuster, said in a statement. "With these anti-Semitic and extremely misanthropic remarks, the AfD is showing its true face. I would not have believed that it was possible for a politician in Germany to say such things 70 years after the Shoah."
Schuster's words came the morning after Höcke, the leader of anti-immigration AfD in the eastern German state of Thuringia, said that German history was being made "appalling and laughable." Höcke added: "These stupid politics of coming to grips with the past cripple us - we need nothing other than a 180-degree reversal on the politics of remembrance."
Höcke's roughly 40-minute speech to an AfD youth group in Dresden drew standing ovations and chants of "Wir sind das Volk" (We are the people), the slogan associated with the protests that helped end Communist East Germany and led to German reunification in 1989-90.
In a statement on Wednesday, Höcke said that he was merely criticizing the weight given to the shame of the Holocaust in Germany's approach to its own history - and threatened to sue anyone misquoting him. But within the context of the speech, which can be viewed on YouTube, there is little doubt that Höcke was depicting the Holocaust monument and culture of remembrance negatively.
Politicians rush to condemn Höcke
The deputy chairman of the Social Democrats, Ralf Stegner, blasted Höcke on Twitter, writing: "Remembering the millions of Nazi victims isn't weakness - weakness is stirring up hatred against helpless people as a way of elevating oneself."
Green party co-chairwoman Simone Peter called for the AfD to "unambiguously distance" itself from Höcke. Green party MP and chairman of the German-Israeli parliamentary committee, Volker Beck, said that state authorities should more closely monitor the right wing of the AfD for neo-Nazi content.
"The strategy of carefully targeted violations of taboos continues," Beck said in a statement. "Höcke is making the AfD into the parliamentary representatives of the NPD (Germany's far-right party). It's high time that his wing of the AfD is kept under observation by domestic intelligence agencies. The most recent statement by the chairman of the AfD in Thuringia show what sort of racist and anti-Semitic views are maintained by the AfD and its functionaries."
"This is not just a run-of-the-mill provocation - this about our identity as Germans," wrote Social Democratic Vice Chancellor Sigmar Gabriel on Facebook. "Höcke's speech particularly horrified me personally because my father was an unapologetic Nazi until the day he died."
"Höcke speaks the language of the Nazi party," concurred SPD secretary general Katarina Barley. Left Party member of parliament Diether Dehm and Left Party co-chairpersons Sahra Wagenknecht and Dietmar Bartsch officially reported Höcke to the police for "incitement of the people" - which is a crime in Germany.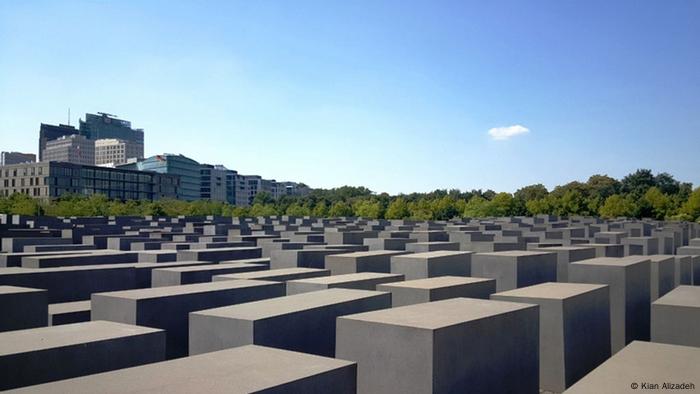 Built in 2005 and featuring 2,711 concrete slabs, the Holocaust monument in central Berlin attracts millions of visitors
National party distances itself
There was no immediate response from the AfD's national leadership as to whether Höcke's views reflected those of the party as a whole, but party chairwoman Frauke Petry did issue a critical statement at roughly 1:30 p.m. local time.
"With his unauthorized solo actions and constant crossfire, Björn Höcke has become a burden for the party," Petry told the right-wing "Junge Freiheit" newspaper. "We will either become political realists or become politically irrelevant."
Those sentiments were echoed by the chairman of the AfD in the western German state of North Rhine-Westphalia, Marcus Pretzell, who wrote on Facebook that Höcke's choice of words was "once again very misleading" and that the AfD was not interesting in revising the history of the Third Reich.
He also told "Junge Freiheit" that "the fatal thing is that he's misunderstood in an area of German history where decorum forbids any misunderstandings."
Höcke is a former history teacher currently on leave. He has said he wants to run for the office of Thuringian state premier in 2019. There was no immediate word from the AfD leadership on Wednesday about whether the party would seek to ban him, as many critics have demanded.
Deliberately provocative timing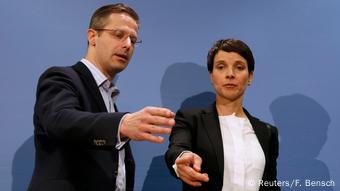 Pretzell and Petry have distanced themselves
The fact that neither Petry nor Pretzell unambiguously endorsed Germany's culture of Holocaust remembrance and made their remarks to a far-right newspaper won't go very far toward cooling tempers.
Höcke's incendiary words seem to have been timed to cause maximum offense. His Dresden speech came only three days before the 75th anniversary of the Wannsee Conference, the meeting on January 20, 1942 at which final planning and authorization of the mass murder of European Jews was made. There are a series of events planned to commemorate that date in Berlin and other parts of Germany on Friday.
The director of the museum located in the villa where the conference was held says Höcke's statements themselves are an argument for remembering.
"Given that people today are again talking about biological-racial political utopias and Nazi concepts like 'Umvolkung' (ethnic transposition) are appearing on social media, I think it's more important than ever that we remember where such utopias can lead and what it means when they are realized," museum director Hans-Christian Jasch told DW.
Jasch added that Höcke's speech may have inadvertently helped the cause of getting people today to engage with the crimes of the past.
"I think it's almost better when remembrance makes some people take offense," Jasch said. "If remembrance becomes a purely ritualized act, then it loses some of its effect. It no longer warns us about dangers or spurs us to think. "