Björn Höcke had triggered controversy when he described the Berlin Holocaust memorial as a "monument of shame," calling for "nothing other than a 180-degree reversal on the politics of remembrance."
He made his comments to an AfD youth group in Dresden last week and his speech went viral on Youtube. "These stupid politics of coming to grips with the past cripple us," Höcke told the crowd.
Leaders of the Alternative for Germany (AfD), decided on Monday that Höcke, who is regional party head in the state of Thuringia, was to face disciplinary measures for his ambiguous comments, but could remain in the party.
The decision comes amid growing calls for his resignation. The AfD's prominent co-leader, Frauke Petry, last week alluded that Höcke might be thrown out after she described his as a "burden for the party."
However, following a three-hour telephone conference on Monday, party heads ruled that although Höcke had "damaged the party's image," only disciplinary measures would be necessary.
"I can live with this decision," Jörg Meuthen, another top AfD figure, said, adding that keeping Höcke in the AfD was important to maintaining the party's broad spectrum of opinion.
It remains to be seen what measures the Thuringia leader will face.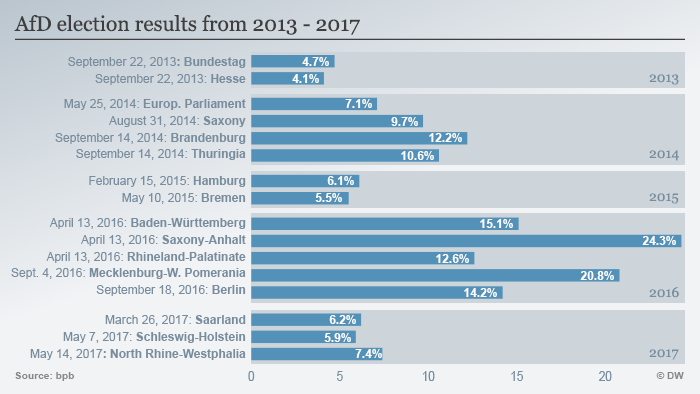 The AfD has a growing presence in German state parliaments
'Monument of shame'
Höcke, who draws backing from the AfD's right-wing nationalist faction, is regarded as the strongest rival to Petry for the leadership.
It wasn't the first time Höcke has been condemned for misanthropic remarks. In 2015, he said that African reproductive rates would continue to drive Europe's overpopulation if the continent continued to accept refugees. His comments on "African life-affirming propagation type" were dismissed by the AfD as amounting "contextual and political stupidity."
dm/se (AFP, dpa)