Already serving a life sentence for two murders, nurse Niels Högel went on trial again on Tuesday on charges that he killed another 100 patients.
When asked by the presiding judge whether the charges against him were accurate, Högel replied: "Yes."
The massive trial opened in the northern German city of Oldenburg with a minute of silence in memory of the victims. Court proceedings had to be held in a nearby festival hall instead of in Oldenburg's regional court to accommodate the 126 plaintiffs in the case and the high level of public interest.
"The plaintiffs want to look the defendant in the eye," lawyer Gaby Lübben said on Tuesday.
Presiding Judge Sebastian Bührmann said that the goal of the trial was to reveal the full scope of the murders that were allowed to go unchecked for years.
"We will do our utmost to learn the truth," he said. "It is like a house with dark rooms — we want to bring light into the darkness."
The 41-year-old nurse is already serving a life sentence after being convicted in 2015 of killing two patients. Investigators later determined that the total number of his victims was likely much higher — making him one of the most prolific serial killers in German postwar history.
Intentionally causing cardiac arrest
According to the indictment, Högel is accused of carrying out the murders between February 2000 and June 2005 in two hospitals in the northern German cities of Oldenburg and Delmenhorst.
The youngest of his victims was 34-years-old and the oldest was 96.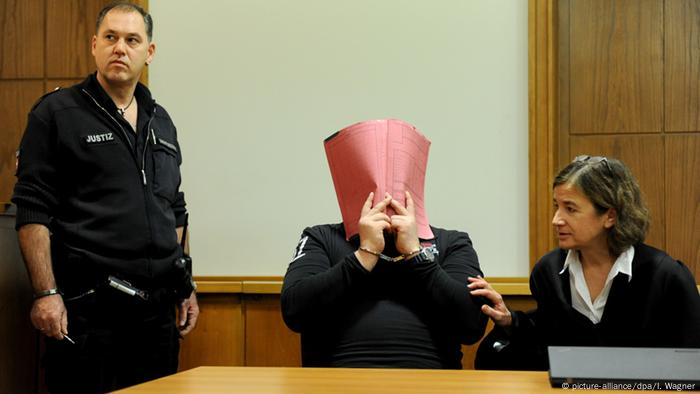 Prosecutors say Högel injected patients in order to demonstrate his medical skills or out of boredom
Prosecutors argue that Högel randomly selected patients and injected them with a cocktail of drugs that caused them to go into cardiac arrest or to suffer other complications so that he could revive them.
"The prosecutor's office assumes that he did this in order to create a life-threatening situation in order to demonstrate his resuscitation skills to colleagues and superiors," the indictment states. Prosecutors have also said he may have done it out of boredom.
He was caught in the act by a nurse in Delmenhorst in the summer of 2005, but it took years for the full extent of the killings to be revealed.
Investigators looked into 200 suspicious cases and have exhumed 130 bodies for tests — including two bodies in Turkey. However, many of the patients who died at the hospitals while Högel was there were cremated and their remains didn't offer any evidence.
German police have said that Högel likely would have been stopped earlier if local health officials hadn't hesitated to inform the authorities. Criminal cases are currently also being pursued against former staff at the two hospitals where Högel worked.
The trial is expected to run until May of next year, with dozens of witnesses expected to testify.
rs/jm (AP, AFP, dpa)
Each evening at 1830 UTC, DW's editors send out a selection of the day's hard news and quality feature journalism. You can sign up to receive it directly here.