The Bundestag voted Thursday in favor of a German military role in phase 2 of the EU's mission to seize boats used by people smugglers in addition to naval rescues of refugees already taking place.
In the ballot, 450 of the 568 parliamentarians present voted to extend Germany's role in the EU mission. Chancellor Angela Merkel's cabinet had endorsed the move on September 16.
Formerly called EUNAVFOR, EU ministers on Monday renamed it Sophia after a baby girl born to a Somali migrant rescued recently by a German vessel. The mission is commanded from Rome by the admiral Enrico Credendino.
From October 7, Sophia's 1,300 personnel drawn from 22 European nations will be able to "board, search, seize and divert vessels suspected of being used for human smuggling" in international waters between Libya, Tunisia and Sicily.
Opposition Greens and Left party politicians in the Bundestag rejected the German inclusion on the grounds that it amounted to only "politics of symbolism."
Instability in Libya
Merkel's coalition government in its motion to parliament said Libya was the mission's focus because of political instability and lack of governance along its coast.
Since May, German naval ships have picked up some 7,200 refugees from flimsy and sinking boats in the Mediterranean, including migrants from Nigeria and Sierra Leone.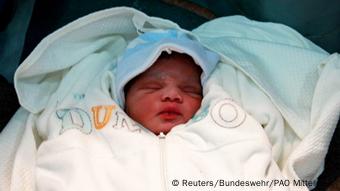 Sophia was born on the frigate Schleswig Holstein
Currently involved are the German frigate Schleswig-Holstein and the supply tender Werra (pictured above) with 320 service personnel on board.
The EU fleet also includes an Italian aircraft carrier and military aircraft for reconnaissance. Submarines and airborne drones are also foreseen.
As part of the strategy, EU officials, including foreign policy chief Federica Mogherini, plan a summit with African Union nations on Malta in November.
700,000 by year's end
The UN refugee agency said Thursday it expected by the end of this year that 700,000 migrants and refugees will have reached Europe via the Mediterranean.
Almost 3,000, including children, have lost their lives in the perilous crossings alone this year.
It speculated that "there could be even greater numbers of arrivals in 2016," but added that planning "for the moment" was based on similar figures to 2015.
Keep borders open, urges Ban
At the UN on Wednesday, UN Secretary General Ban Ki-moon urged Europe to keep its borders open and combat xenophobia.
He appealed for managed movements via safe and legal channels for refugees and migrants.
Hundreds of thousands have fled to Europe in recent months after fleeing war zones in nations such as Syria and Afghanistan and persecution in nations such as Eritrea.
ipj/kms (epd, dpa)