Friday's figures suggest that the closure of the Balkan Route, as part of an EU deal with Turkey, has slowed the rate of people arriving in Germany.
Interior Minister Thomas de Maiziere told a press conference in Berlin that 173,707 people had filed "EASY" computerized registrations for new arrivals during the first quarter of the year. The formal asylum application is a separate process, designed to follow this registration.
More telling, however, were month-on-month figures, showing a marked reduction in arrivals during the course of the quarter. In January, 91,671 migrants entered Germany, followed by 61,428 in February, and 20,608 in March. In December of 2015, roughly 120,000 arrived.
"The number of asylum applications is rising. The number of people coming to Germany is going down," de Maiziere said, adding that this was not the contradiction it might appear, showing instead that the government was working through its mammoth backlog of unprocessed applications.
The interior minister said that fewer than 200 people were now crossing Germany's Austrian border each day, saying this reduction was "quite clearly attributable to the closure of the Balkan Route." He said he would not predict how the numbers might develop later in the year.
The number of formal asylum applications for the quarter, meanwhile, stood at 181,405, more than half of them from Syria. That was more than double the figure for the same quarter last year, before the so-called "migrant crisis" had really gathered steam.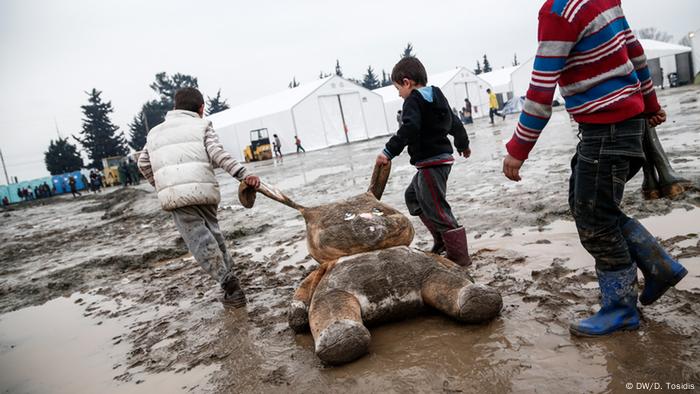 Border closures have caused havoc for some - the refugee camp at the Greek-Macedonian border town of Idomeni has been filled far beyond capacity
Germans unimpressed by Turkey deal
With countries in eastern Europe closing off their borders to illegal migration and a new agreement between the EU and Turkey to return unauthorized migrants who sail to Greece, it follows that the flow of refugees to Germany would slow down month by month. Despite what might seem like good news for a country struggling to cope with the newcomers, a new report on Thursday showed that Germans were not very keen on the Turkey deal either.
According to broadcaster ARD's "Deutschlandtrend," a longtime gauge of popular opinion, 56 percent of Germans are against offering Turkey financial aid and visa-free travel to the EU in exchange for Ankara reclaiming refugees. Some 39 percent of Germans found the deal worthwhile, said the poll.
Migration from Africa unlikely to slow
But Germany should not be so fast to assume that the refugee crisis is over, according to Development Minister Gerd Müller. While migration from the Middle East may have been hindered, MÜller said Europe should expect more migrants to arrive from Africa in the coming months.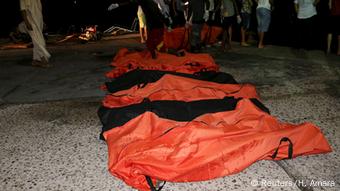 Over 200 would-be migrants died in a single shipwreck off the coast of Libya last August
"In Libya alone around 100,000 to 200,000 people who have traveled from sub-Saharan Africa are waiting to come to Europe," Müller said on Friday. He called on Foreign Minister Frank-Walter Steinmeier to meet with Libyan officials and work towards stabilizing the conflict-torn nation and stemming the flow of migrants.
In 2015, more than 1,200 people died trying to make the crossing from Libya to Italy.
es/msh (KNA, AFP, epd, dpa)